Mila Kunis: I'll Talk About Nudity – But NOT About Ashton Kutcher!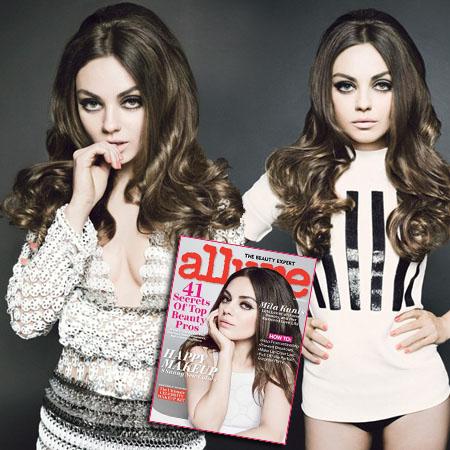 Mila Kunis strikes several sexy poses in a sixties-inspired photo spread for the March edition of Allure, and while she's happy to talk about racy topics like nudity in film, there's one thing she won't talk about – her relationship with beau Ashton Kutcher.
Inside the magazine, the Ted star talks candidly about nudity in film, and in particular, her revealing role in 2011's Friends with Benefits, which co-starred Justin Timberlake.
Article continues below advertisement
Apparently, while the Ukrainian-born starlet has no issue showing skin, she will draw a line in the sand.
She told Allure, "I showed side boob. I don't need to show ass. You get one or the other. You don't get both."
The Black Swan beauty, who famously dated actor Macaulay Culkin for eight years and is now romancing Kutcher, also opened up about being single, saying: "For four years I was single. An amazing time. An amazing time. I love being single."
However, when the magazine reporter showed her a photo of the Two and a Half Men star, Kunis clammed up.
"I didn't think this was going to be about my friends. Happily about myself! Not about who my friends are, who I'm dating, or who I may have ever dated. That's not talking about myself!"
Kunis, 29, and Kutcher, 35, have known each other for 14 years after co-starring on Fox's That 70s Show.
They reportedly hooked up after Kutcher's marriage to Ghost star Demi Moore imploded after she discovered he had been cheating.
Their divorce is still not final.