Kris Jenner Headed Toward Trouble With Frequent Boozing, Insiders Claim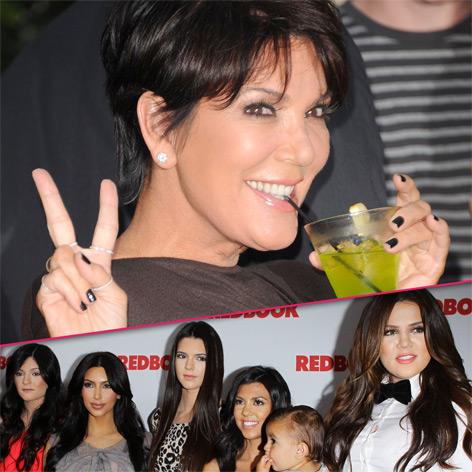 While no one can doubt Kris Jenner's place as one of Hollywood's foremost movers-and-shakers, insiders close to reality TV's royal family say the Momager should consider tempering her social drinking before it gets out of hand.
"She sometimes drinks at work and in the morning, and she always jokes about having her vodka and wine ready for her when she arrives at an event or at home," an insider told InTouch. "She needs help.
Article continues below advertisement
"I've been at her house -- she'll open a bottle of wine in the middle of the day and pour half a bottle in a giant glass and slug from it. She gets sloppy and inappropriate."
Robert Kardashian's widow Ellen told the magazine the late legal great indicated to her that "partying and drinking was a big issue in their marriage.
"He though she had a problem with alcohol, because she would drink in such excess," Ellen told the magazine. "He worried about the children."
Even after her marriage to Bruce Jenner in 1991, insiders say, Kris's social partying train never slowed.
"She was a fixture at Skybar and the Mondrian in the mid-90s," the insider said. "She'd take the girls and let them play in the pool while she was in the bar chatting up all the guys.
"One time she got so drunk she couldn't drive home and force Khloe (who was just 14 at the time) to drive her."
Earlier this month, at a pre-Oscars fundraiser, an eyewitness said every time they saw Kris, "She had a martini in her hand."
Article continues below advertisement
Apparently feeling no pain, the reality TV stalwart, 57, tried to make a beeline to A-lister George Clooney, though she didn't get the results she'd hoped for.
"She was determined to get close to him. She was telling her friends that she had to talk to him, saying things like how gorgeous his place in Lake Como must be and how she would love to have the family be invited to stay there," the eyewitness said. "But when she finally got near him, he didn't even look at her. He wasn't having it."
RadarOnline.com has reached out to a rep for Kris Jenner for comment on this story.