Kendra Wilkinson: I Wanted To Kill Crystal Harris When She Dumped Hugh Hefner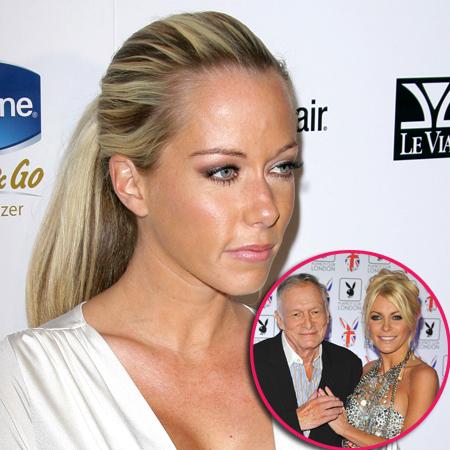 Words of advice for Crystal Harris: Try not to find yourself trapped alone with Kendra Wilkinson!
Showing her enduring fondness for Playboy chief Hugh Hefner, Kendra, 27, told a radio show that she wanted to kill Crystal when his now-wife previously dumped Hef.
"I got p****d off when she hurt him," Kendra told the Big J radio show in Montana.
"Of course, someone like me, I wanted to kill her. So now he's trying to get people to love her again. I'm like, 'Whatever, sure. If that's what you feel, we support you.'"
Article continues below advertisement
Harris was a runaway bride before eventually returning and marrying Hef. And Kendall says that the Playboy legend has never been happier, recalling a conversation they had on New Year's Eve.
"It was just me and him and I looked him in his eyes and said, 'Hef, are you happy?"' Kendra said.
"And he's like, 'Oh, am I Kendra. I've never been this happy, and I want you to tell everybody that.' I'm like, 'OK.'"
But Kendra showed that it's not all forgive-and-forget for people who are fond of Hef. "That's what p***es me off …he can't go around thinking that people will automatically love her, especially after that.
"That p***ed everybody off, that she would just leave him and dump him, use him and abuse him."
Kendra also discussed swapping families with Kate Gosselin, part of ABC TV's Celebrity Wife Swap. When the host said to her that the only thing possibly more awful would be switching with Octo-mom, Kendra laughed and said, "I think I agree."
Article continues below advertisement
But she described the Gosselin 8 as extremely well disciplined children who are on a highly regimented schedule.
"The kids themselves are by the book," Kendra said. "I didn't have that much to worry about with survival, with the whole cleaning and eating. It's like they have little alarm clocks in their heads. Every minute is implanted in their brains."
So, was she concerned about leaving Kate with her husband Hank Baskett?
"Not at all," Kendra said. "I give my husband what he needs."
You can listen to the entire interview below.
youtube