She's Still Smokin' Hot! Happy 44th Bikini Birthday Jennifer Aniston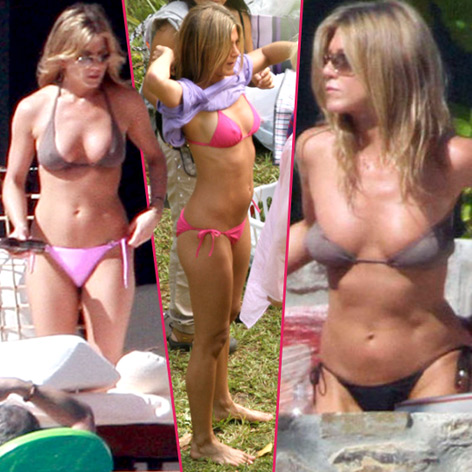 It's hard to believe that Jennifer Aniston is in her mid-40s!
The former Friend, who has been in the public eye since the 1990s, is celebrating her 44th birthday on Tuesday, February 11, and RadarOnline.com is honoring the sexy star on her special day with a photo gallery featuring her bombshell bikini body over the years.
In 1990, Aniston was trying to make a name for herself in Hollywood, landing small roles in television shows and movies, but it wasn't until her breakout television role in 1995's Friends that the beautiful star skyrocketed to international stardom.
Article continues below advertisement
The success of the show turned Jen into a style icon, sending women all over the world to the salon in hopes of duplicating "The Rachel" hairdo.
After dating a slew of Hollywood stars like Tate Donovan and Adam Duritz, Jen landed in the arms of the man of her dreams, Brad Pitt, in 1998. Though their marriage only lasted four years, the coupling was one of the most famous in Hollywood history—as was their split, due to rumors of Brad cheating with Angelina Jolie.
Jennifer put her focus on her career, transforming herself from a television star into a blockbuster babe with hits such as The Break-Up, Marley & Me and Along Came Polly.
After short-lived romances with everyone from her The Break-Up costar Vince Vaughn to music man John Mayer, Jen finally found romance with her Wanderlust costar Justin Theroux – and the two got engaged earlier this year.
One thing is for sure about Jennifer's evolution – her bikini body has gotten better with age! Happy 44th, Jen!