Hot Air Balloon Crashes Over Egypt, Killing 19 Tourists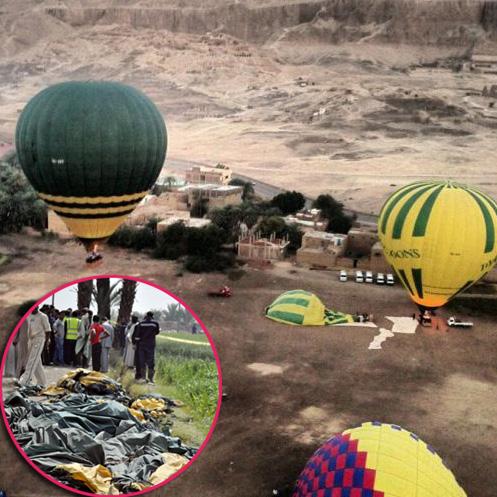 At least 19 tourists were killed Tuesday when a hot air balloon caught fire and crashed at least 1,000 feet into a sugar cane field over Luxor, Egypt, authorities said.
Only three people survived the crash, two of them from England, and one from Egypt. British tour operator Thomas Cook said authorities were "working closely with the Foreign Office and the authorities in Egypt, and we can confirm that two of our guests are in local hospitals, but tragically two of our guests have died in the hot air balloon incident in Luxor, Egypt this morning."
Article continues below advertisement
Passengers in the balloon included 19 foreign tourists: nine from Hong Kong, four from Japan, three from Britain, two from France and one from Hungary, officials said.
The scene at the crash site was grisly, as dead bodies were all over the field; an AP reporter counted eight bodies loaded into body bags while covering the accident.
Riding in hot air balloons is a regular tourist in the area, as are past accidents in them, as 16 people were hurt when a balloon hit a tower in 2009, and in 2008, a balloon crash left seven people injured. Prior to Tuesday, the deadliest hot air balloon ever was 13, in a 1989 collision of two balloons in Alice Springs, Australia.
Watch the video on RadarOnline.com
Officials said no foul play was suspected in the crash.
youtube