Dead Dog Walking! American Bulldog Sentenced To Death For 'Being Gay' Granted Last-Minute Reprieve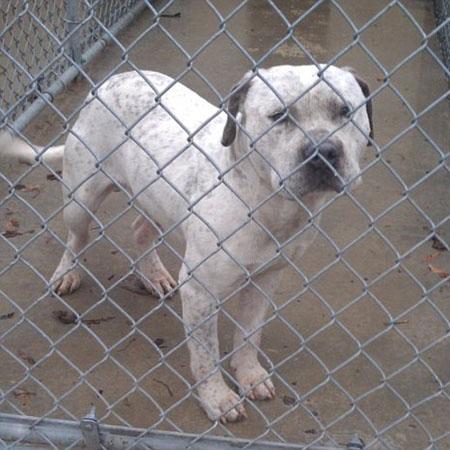 In a shocking case of doggie discrimination, an American Bulldog mix in Tennessee was facing death by lethal injection after his owner abandoned him for "being gay."
The pet owner came to his genius conclusion after discovering his butch Bulldog "hunched over" another male dog - assumed they were about to have sex, freaked out and immediately dropped his obviously "homo hound" at a high kill overcrowded animal shelter, which was forced to schedule the poor pooch for euthanasia because it was too late to find a new - presumably, more intelligent and informed - owner.
Article continues below advertisement
However, just as it seemed that the cast-off canine was a dead dog walking, he received a miraculous last minute stay of execution and was plucked from the jaws of death by a guardian angel, after a Facebook campaign made the pup's plight public.
The campaign aimed to save the dog by appealing to animal lovers to take him, because he was dumped "not because he's mean or he tears things up but because… His owner says he's gay."
"Even if that weren't the most asinine thing I've ever heard, it's still discrimination" wrote the page creator Jackson TN Euthanasia, a 39-year-old mother-of-four who pays regular visits to the high-kill shelter, Jackson Rabies Control, looking for dogs to rescue, and the pleading post quickly garnered 550 'likes' and was shared almost 4,500 times.
Luckily, after Gawker.com picked up the story and it went wide, the shelter was flooded with calls and the dog was plucked up by new owners.
Article continues below advertisement
"I have had about 10 million calls this morning. It has been adopted already. It is gone," said an anonymous shelter employee on Thursday. "He's in good hands."
The sad irony of the situation is that animal experts all agree that while some dogs have been known to occasionally display homosexual tendencies, canine humping is a sign of a dog proving dominance over another – and, obviously, not a sexual act.
"I can't understand it," said the shelter worker, regarding the stupidity of the original owner who dumped the dog. "You know those dogs get on top of each other sometimes."