Exclusive
Demi Moore 'Still Reeling' Over Split From Ashton Kutcher, Struggling To Accept He Moved On So Quickly To Mila Kunis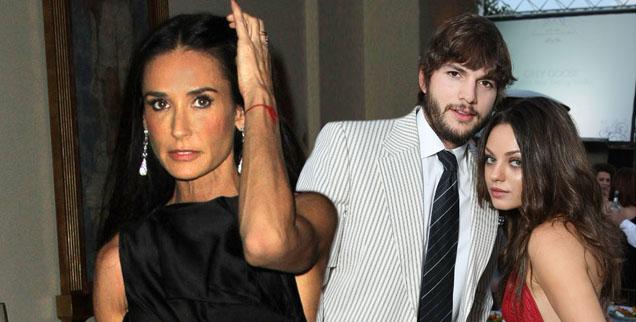 Demi Moore is "still reeling" over her painful split from Ashton Kutcher and struggling to accept he has moved on - and found love again - so quickly with Mila Kunis, RadarOnline.com is exclusively reporting.
The 50-year-old mother-of-three has been putting on a brave face in public and partying hard, but a source close to the actress says that in reality she is still broken hearted over losing her husband of six years.
Article continues below advertisement
"Demi wants nothing more than to be able to move forward with her life, but she's still really, really upset about Ashton and Mila, it eats her up every time she hears about them or see pictures of them together," the source tells Radar.
"She's doing everything she can right now to live her life to the fullest, but it's hard to move on because she still has feelings for Ashton and hasn't found a suitable distraction just yet."
As for Demi's fractured relationship with daughters Rumer, Scout and Tallulah Willis, she remains estranged from them and that's further compounding her despair, the source says.
"Demi wishes things were different with her girls, she loves them, but they're not speaking to her still and she doesn't know what to do to fix things," the source says.
In fact, the family riff has deepened even further over the past few months, the source says, with the girls believing their mom is "desperate to hang onto her youth at all costs" and is refusing to allow herself to move on from Ashton.
Meanwhile, Demi's trying her hardest to take the situation in her stride. "She's accepted what is going on with her life," the source says. "She would like a new boyfriend and is actively trying to find one, she thinks that will help her to move on from Ashton.
"And, she knows her relationship with her daughters is bad, but she's accepted it for what it is right now. Demi's been really Zen like lately - just going along with the flow and trying not to stress out."