Exclusive
That's Not Very Spiritual Russell! Brand Stages Yoga Class Walkout To Protest On Behalf Of Teacher Pal!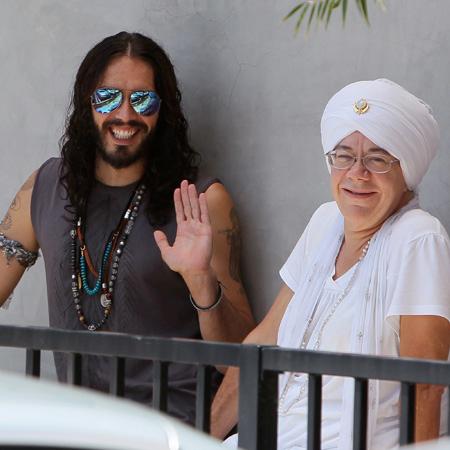 Russell Brand is known for his outrageous antics and offbeat sense of humor, but he wasn't making anyone laugh at The Golden Bridge Yoga studio in Los Angeles last week!
The British bad boy staged a mass walkout during class to protest the studio's alleged poor treatment of his close pal, yoga teacher, Tej Kaur Khalsa, and RadarOnline.com has all the exclusive, crazy details, including which A-lister joined Brand's revolt!
Article continues below advertisement
"Russell absolutely adores Tej, and she has become something of a guru to him," an insider tells Radar. "They are the best of friends. They meditate
together, they hike, they go to vegan restaurants together, and Russell took it very personally when he found out that Tej wasn't happy at Golden Bridge.
"Tej told Russell that she wanted to quit teaching at the studio, but claimed they wouldn't let her out of her contract. That made him spitting mad and he vowed to take action on her behalf!"
So last Tuesday, at the start of morning class, Brand decided to fight the power and stage a mass walk out.
The source says that just as the students were getting situated on their mats, and fellow celeb Demi Moore was taking off her shoes and finding a spot on the floor, Russell marched to the front of the class, with Tej standing next to him.
"Golden Bridge is not treating my friend in a respectful manner," Russell charged. "After years of dutiful service, they refuse to let her out of her contract. If you'd like to continue to study with her, follow me!"
Article continues below advertisement
An eyewitness says the crowd shifted nervously for a few seconds, wondering whether or not they were being Punk'd, but soon enough, at least half of the class, Moore included, rolled up their mats and followed Russell right out the door!
"It was bizarre," the witness tells Radar. "We were just there to do yoga and get in tune with our spiritual sides and then suddenly it turned into a revolution!"
Golden Bridge Yoga studio confirmed the walkout when contacted by Radar, but denied they were refusing to allow the popular instructor out of her contract.
"Tej quit," an employee told Radar. "She just upped and left. There wasn't a contract problem though, she just quit. Yes, there was a walkout in class, I didn't actually know that Russell Brand led it, but he was there and so was Demi Moore. Neither Demi nor Russell have been back since."