Hair-y Go Again! Amber Rose Almost Unrecognizable In Old Photo Of Herself With Head Full Of Curls!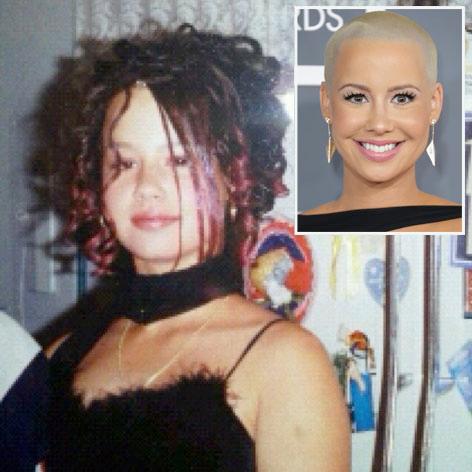 She's known for her peroxide blonde shaved head and her bold fashion choices.
But this week Amber Rose posted an old photo of herself with a full head of hair on her Instagram page — and she is almost unrecognizable!
Taken in 1999 when she was just sweet 16, the model looks totally different with purple and brown spirals framing her face.
In the photo Rose is wearing hoop earrings, an elegant black gown and matching scarf. The caption reads: "#Throwback homecoming dance circa 1999 :-)"
Article continues below advertisement
She later posted recent Instagram photos of herself trying on two long wigs – one brunette and one blonde.
The heavily pregnant 29-year-old is about to give birth to her first child with fiance, rapper Wiz Khalifa.
On Wednesday Rose announced she is going to take a break from Twitter. She tweeted to her followers: "Hey Rosebuds & Rosestuds Muva won't be back on Twitter until Wizbud is born.
"I need 2 meditate & focus on our Lil boy. Luv u talk soon – Muva."