BORING! Anne Hathaway's BAFTA Speech Draws Les Miserable Twitter Backlash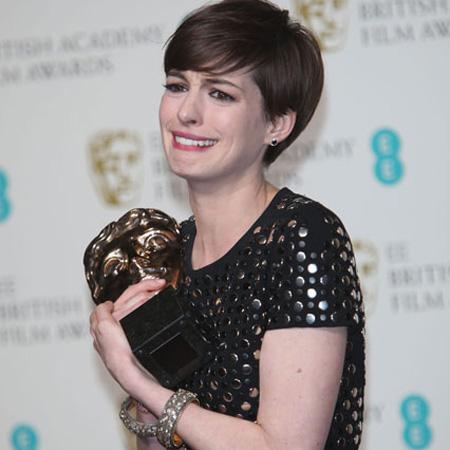 Anne Hathaway was roasted on Twitter Sunday after viewers felt she delivered a long, boring, vapid speech in accepting the best supporting actress award for her role as Fantine in Les Miserables at the 2013 BAFTAs.
The tweets came fast and furious toward the 30-year-old A-lister, as some thought the most pretentious part of the speech was when Anne thanked Le Miserables writer Victor Hugo … who's been dead for 128 years.
Article continues below advertisement
One Twitter user wrote, "Sigh. There Anne Hathaway goes again, being all surprised and honored and humble with a carefully rehearsed extemporaneous speech. #BAFTA."
The Devil Wears Prada star, at one point, said, "I think I'm coming down with laryngitis," but that didn't stop the filibustering.
Watch the video on RadarOnline.com
"Anne hathaway's acceptance speech was longer than her screen time," one user wrote, while in perhaps the most vitriolic tweet we saw Sunday, a user wrote, "Every Anne Hathaway speech: *Attempts badabing joke, feigns humility, breathily compliments cast, thanks management, loves husband.* Vomit."