'I'm NOT Pregnant!': Anne Hathaway Denies Rumors She's Expecting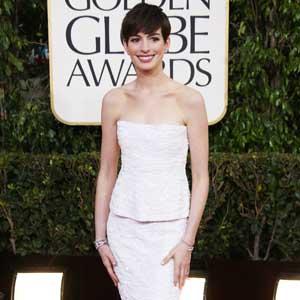 Golden Globe winner Anne Hathaway is denying rumors she's expecting her first child with husband Adam Shulman.
A rep for the stunning actress released a statement Sunday, simply saying: "She's not pregnant" after host Giuliana Rancic created a buzz when she speculated on E!'s Countdown to the Red Carpet that the star was pregnant.
During E!'s broadcast, Rancic said: "Rumors are that Anne Hathaway may be pregnant."
Article continues below advertisement
She continued: "That's the buzz on the street right now, which, if true that may be the ultimate award season good luck charm.
"Just ask Natalie Portman who two years swept the award season for her work in Black Swan while she was pregnant with her first child.
"Also Rachel Weisz had a bump while picking up hardware for The Constant Gardener in 2006 and Catherine Zeta Jones in 2003, who was just about ready to pop..."
Hathaway, 30, certainly showed no hint of a baby bump as she arrived at the ceremony in a form-fitting white skirt and corset, but she's made no secret of her desire to start a family, telling the current issue of Harper's Bazaar UK: "I'd like to have a few children, naturally and adopt.
"I gotta get on it… I'd like to have as many as I can afford.
"I've had one goal in mind for the past 12 years, which is: get a movie. Now I might have to say: "Get a baby."'