Anne Hathaway Calls Flashing Paps 'Devastating'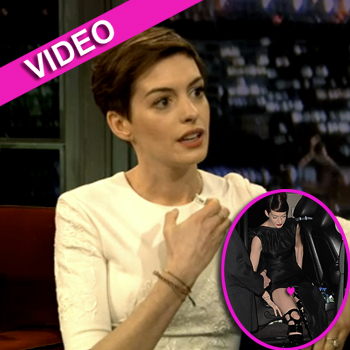 Jimmy Fallon didn't go there in his interview with Anne Hathaway Tuesday night, but the actress did open up about her embarrassing wardrobe misstep at Monday's New York premiere of Les Miserables, calling her sexy snafu of flashing the paparazzi "devastating."
A day after Anne (who did not wear underwear to the premiere at the Ziegfeld Theatre) inadvertently flashed her private parts in her sleek black Tom Ford dress, the A-list beauty poked fun at herself, speaking with Vanity Fair journalist Ingrid Sischy at a luncheon in New York Tuesday, the NY Daily News reported.
Article continues below advertisement
"I was getting out of the car and my dress was so tight that I didn't realize it until I saw all the photographers' flashes," the Devil Wears Prada beauty recalled of the circumstances that led to the revealing moment. "It was devastating."
Watch the video on RadarOnline.com
The 30-year-old continued, "They saw everything. I might as well have lifted up my skirt for them!"
Other stars who have been snapped in similar circumstances include Lindsay Lohan, Britney Spears and Paris Hilton.