Amber Rose & Wiz Khalifa: 'We're Having A Baby!'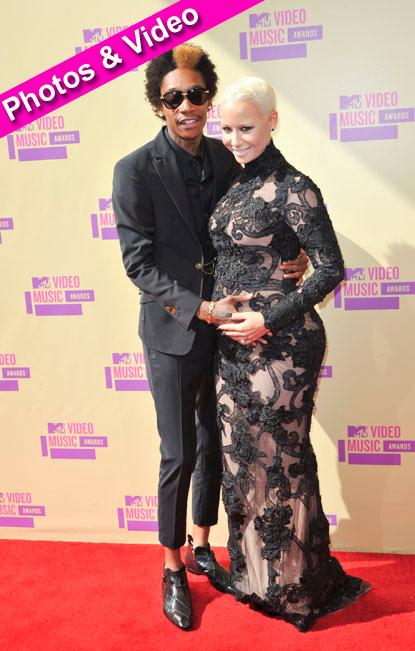 We told you so: There's a little rosebud in the oven!
At the 2012 MTV Video Music Awards Thursday, Wiz Khalifa and Amber Rose confirmed they're expecting a child.
The 'Say Yeah' rapper told MTV News correspondent Sway Calloway in an interview, "We had to do it with the whole world, and just let everybody know that we're expecting a beautiful little baby, we're so excited...We're having a baby!"
Article continues below advertisement
Wiz then planted a kiss on the belly of the short-haired socialite, who's he's been engaged to for about six months. Rose wore a lacey black see-through number showing off her baby bump.
"Thx 4 all the Love my Rosebuds & Rosestuds I love u guys so much we're about to have a lil #WizBud join our Rosebud fam Yay!! :-)" Rose tweeted Thursday evening.
As we previously reported, the couple "unexpectedly got pregnant," but have welcomed the situation with open arms.
"They're really happy to be starting a family together," a source close to the situation told RadarOnline.com. "Amber's already had to make some big lifestyle changes, like not smoking cigarettes anymore.
"As a model she's used to having a thin waist, so this is going to be an adjustment for her."
Get More: 2012 VMA, Artists.MTV, Music
For a complete list of winners at 2012 MTV VMAs, click here.
RELATED STORIES: