Who Is The Alabama Bunker Kidnapper? What You Don't Know About Jimmy Lee Dykes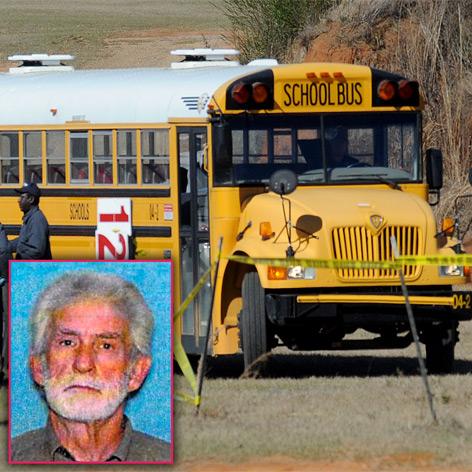 The dramatic hostage standoff between Alabama police and the man who allegedly shot a school bus driver dead and then holed up in a bunker with a five-year-old hostage, was no closer to resolution on Friday.
As the rural town of Midland City, deep in the heart of peanut growing country, struggles to comprehend why one of its 2,300 residents would cause the horror that began to unfold after Jimmy Lee Dykes ambushed the bus on Tuesday, RadarOnline.com is revealing troubling details on the man at the center of the crisis.
Article continues below advertisement
***
7. Jimmy Lee Dykes is a 65-year-old retired truck driver who has been described by neighbors as "a menacing figure," The Huffington Post is reporting.
6. Dykes was due to appear in court on Wednesday – the day after he allegedly shot Charles Albert Poland Jr. dead as he valiantly attempted to protect the 21 students on his bus - to face charges that he shot at his neighbor, Claudia Davis, her son and 6-month-old granddaughter, in a dispute over a speed bump last month.
5. Dykes' violent side has reportedly surfaced before. He was accused of beating neighbor Ronda Wilbur's 120-pound dog to death with a lead pipe after it wandered over to the side of the dirt road his trailer sits on. "This man has been an accident waiting to happen. He's been a ticking time bomb," Wilbur asserts. Then, another neighbor, who lives across the street, claims Dykes threatened to shoot her children when they ventured onto his land to retrieve their escaped bulldogs.
Article continues below advertisement
4. The Vietnam veteran is notorious in the close-knit neighborhood for his anti-government views and the paranoid man reportedly often prowled his yard at night with a flashlight and gun looking for intruders. "Before this happened, I would see him at several places and he would just stare a hole through me," said Davis. "On Monday I saw him at a laundromat and he seen me when I was getting in my truck, and he just stared and stared and stared at me."
3. The alleged hostage taker first began building the bunker he is now holed up in, to be a shelter from natural disasters such as tornadoes when he moved onto the property two years ago and is said to have worked obsessively on it, moving concrete blocks, shifting dirt and digging holes.
2. It is not the first time Dykes has literally gone underground, as town local, Jimmy Davis claims Dykes had been known to spend up to eight days at a time down in his bunker. "He's got steps made out of cinder blocks going down to it. It's lined with those red bricks all in it," he revealed to ABCNews.com, and police say he may have enough supplies to last him weeks.
1. While it has been suggested that Dykes' alleged crime spree may have been motivated by a personal vendetta, he is no relation to the alleged hostage, a kindergarten student who suffers from Asperger's syndrome and attention deficit hyperactivity disorder, and appears to have grabbed him at random.
***
Meanwhile, the tense standoff continues as SWAT teams and police negotiate with Dykes, while sending food, medication and coloring books in for the boy.