Seriously?!? Journalist Jailed For Ten Years For Insulting Thai King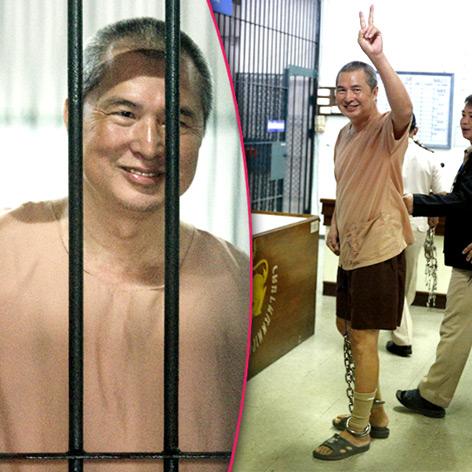 Rush Limbaugh should be very happy he doesn't live in Thailand.
Former Thai magazine editor and prominent activist Somyot Prueksakasemsuk was jailed for 10 years on Wednesday for insulting the royal family under the country's draconian lese-majeste law, which forbids discussion about the role of the monarchy.
The journalist - who was led into court with his legs shackled - was found guilty of publishing two articles defaming King Bhumibol Adulyadej in 2010 when he was editor of an anti-establishment magazine devoted to self-exiled former Prime Minister Thaksin Shinawatra.
Article continues below advertisement
The articles -- which included negative references to the crown -- criticized the role of a fictional character meant to represent the king, public prosecutors stated in a July 2011 report.
"The accused is a journalist who had a duty to check the facts in these articles before publishing them. He knew the content defamed the monarchy but allowed their publication anyway," a judge said in passing sentence.
Judges found both articles contained content that defamed the royal family and argued that Somyot, as a veteran editor, knew he was breaking the law, yet chose to print them anyway. The court announced two five-year jail terms - one for each story.
"(Somyot) should have better judgment than ordinary journalists. He must have understood that the articles contained lese majeste content, but chose to publish them anyway," one of judges said in the sentence.
Article continues below advertisement
Somyot said he would appeal the verdict, but he added would not seek a royal pardon.
The magazine, whose English title is Voice of Taksin, a play on words meaning "Voice of the Oppressed", was shut down shortly before Somyot's arrest, said
Thida Thawornseth, a leader of the pro-Thaksin "red shirt" movement.
The European Union Delegation to Thailand said the verdict and harsh sentence undermined the right to freedom of expression.
"At the same time, it affects Thailand's image as a free and democratic society," it said in a statement.
Although the articles were published in 2010, Somyot was not arrested until the following year — five days after starting a petition drive to revoke Article 112 of the nation's criminal code, which mandates three to 15 years in jail for "whoever defames, insults or threatens the king, the queen, the heir to the throne or the regent."
Article continues below advertisement
New York-based Human Rights Watch said the ruling was "more about Somyot's strong support for amending the lese-majeste law than about any harm incurred by the monarchy".
Human rights groups say the lese-majeste law is used by Thailand's powerful elite to silence political opponents, including supporters of pro-Thaksin groups.
The 85-year-old king, who has been in hospital since 2009, is seen by many in Thailand as a unifying, semi-divine father figure.