'Criminal Minds' Star Thomas Gibson Arrested On Suspicion Of DUI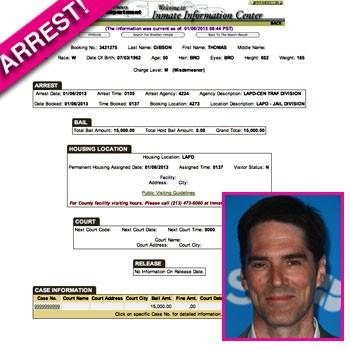 UPDATE: Gibson was released at 1:27 pm PST.
Criminal Minds and Dharma and Greg starThomas Gibson was still in custody Sunday morning, more than seven hours after he was arrested in downtown Los Angeles on suspicion of driving under the influence,RadarOnline.com has confirmed.
Gibson was taken into custody after he allegedly drove through a barricade that had been erected for a nighttime half-marathon called "New Year's Race--Los Angeles at Night."
Article continues below advertisement
The 50-year-old actor was arrested at 1:05 am today by Los Angeles Police Department Central Traffic Division and as of 8:30 am Pacific time, he was still in custody.
Gibson, who was listed as 6'2," 185 pounds, had his bail set at $15,000.