Call The Waa-mbulance! Suri Cruise Sobs After Dropping Her Stuffed Animal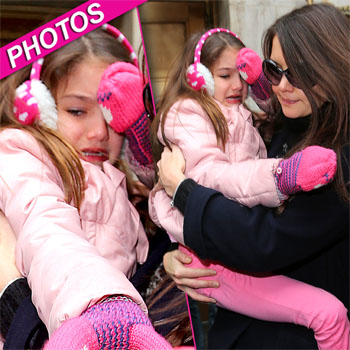 2013 has gotten off to a rough start for Suri Cruise!
The adorable 6-year-old had a terrible, horrible, no good, very bad Wednesday with Katie Holmes in New York City, exploding into tears after dropping her stuffed animal on the ground, and RadarOnline.com has the photos.
Looking super cute in all pink duds, including pink and white earmuffs, Suri arrived at the Music Box Theater cradled in her mother's arms, and had a meltdown when her beloved stuffed animal fell out of her hands and onto the ground.
Article continues below advertisement
Luckily a friendly photographer picked up the plush toy and returned it to her before she walked into the theater, where Holmes is currently starring in the final week of her Broadway show "Dead Accounts."
RELATED STORIES:
Funny Flashback! Katie Holmes Sings On My Own On Dawson's Creek
Katie Holmes' Dead Accounts Closing Early On Broadway After Mixed Reviews
Tom Cruise's 'Dirty Dancing' Date With 26-Year-Old Restaurant Babe
MORE ON:
hollywood happenings