Michael Landers' Dad Breaks Silence About Son's Abduction, Says He Forgives Parents For Taking Him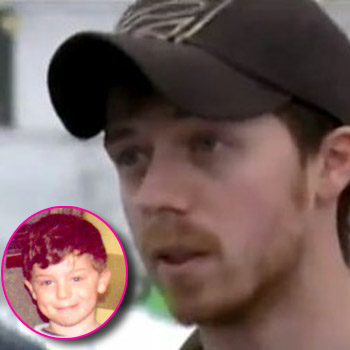 The father of kidnapped Michael Richard Landers has broken his silence about his parents abducting his young son nearly 20 years ago, saying he forgives them and dropping the bombshell news that they had actually warned him of their plan to take his son.
Richard Wayne Landers Sr. said he has been through a rollercoaster of emotions over the abduction and that he is still undecided if he will see his son now that he has been found.
Article continues below advertisement
"It's kind of like now, my emotions are torn between wanting to see him and not wanting to wreck his life," Landers told the Associated Press, who went on to explain his living situation at the time of the abduction.
"Times were tough and Michael and his wife needed to straighten out their lives, so they gave guardianship of their son for a year to the boy's grandparents, Richard E. and Ruth Landers," the AP report.
However, the grandparents, who subsequently changed their names to Raymond Michael and Susan Kay Iddings, fled with young Michael and took him to live in Browerville, Minnesota.
Richard Wayne Landers, Sr. said he doesn't have a criminal record or drug and alcohol problems and that he believes his parents were motivated to take their grandson by concerns about his wife Lisa Harter, who has mild developmental disabilities, and by fears he and Harter were too young to parent.
Article continues below advertisement
"They knew even if I got custody, that he would have to spend time around her," he said. "But why didn't they get us parenting classes or offer to take us in and help us out instead of just running and hiding?"
In a shocking revelation, Landers said his parents "dropped a hint about their plan shortly before they disappeared," but that he didn't realize it until later.
He said they made a videotape of his son, who was five when he was taken, and told him "he'd always know who I was. It didn't strike me then. It didn't hit me until after they left what they were actually doing or planning."
Authorities have said there is an ongoing investigation into the grandparents, and the case will be forwarded to federal authorities for possible charges, "perhaps related to non-custodial kidnapping."
Landers said he wants to see Michael, who was born Richard Wayne Landers Jr.
"I don't know him like everyone else knows their son, but that don't stop the love," he said and explained that he forgives his parents. "I have to forgive them. My faith won't let me do anything else."