Lindsay Lohan Appears In Court Trying To Escape Jail! Judge Sets Trial Date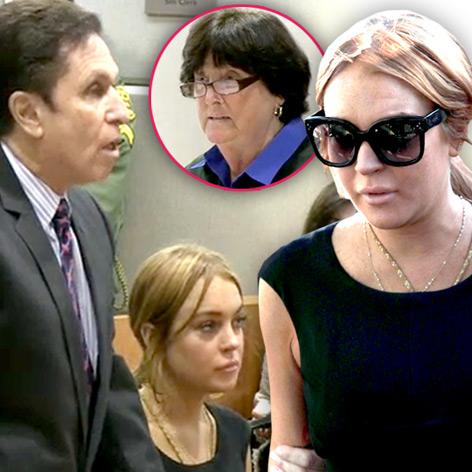 UPDATE: 9:18 AM PST Lindsay Lohan and her mother Dina Lohan left the courthouse in a black SUV.
UPDATE: 9:14 AM PST As court was adjourned Lindsay looked at her lawyer and asked "Can we go?" and left the courtroom.
UPDATE: 9:13 AM PST. The court proceedings are over. Judge Sautner set Lindsay's pretrial hearing for March 1, 2013. Lindsay is not required to appear in court for the pretial hearing, per Judge Sautner's orders but she is required to appear for the trial, which was scheduled for March 18. Judge Sautner also announced she is retiring March 1. Judge Sautner said that Lindsay's probation remains revoked but that will be heard currently at the trial.
Article continues below advertisement
UPDATE: 9:11 AM PST The judge sets March 18 as Lindsay's trial date. Lindsay's laywer explained to Judge Sautner why Lindsay was originally not going to be in court, saying that a doctor diagnosed her with an upper respiratory infection. Judge Sautner said "I'm glad to see you're feeling better," and Lindsay laughed and said "Thank you."
UPDATE: 9:03 AM PST Lindsay Lohan's lawyer told Judge Sautner that it was "an honor" to appear in front her of and the Judge said "Flattery doesn't get you anywhere in this court."
UPDATE: 9:00 AM PST Lindsay's lawyer told Judge Sautner: "It will be in Miss Lohan's best interest to bring closure to this drama in her life."
UPDATE: 8:57 AM PST Judge Stephanie Sautner is on the bench and the proceedings have started. Lindsay confirms to the judge that she wants Mark Heller to represent her instead of her former attorney Shawn Holley.
UPDATE: 8:46 AM PST Lindsay is sitting at the counsel table looking straight ahead. Judge Stephanie Sautner is not yet on the bench.
MORE ON:
Judge Stephanie Sautner
Article continues below advertisement
UPDATE: 8:36 AM PST Lindsay has arrived at the courthouse with her mother Dina Lohan. She is wearing a black sleeveless dress with her red hair in a pony tail. Lindsay's attorney Mark Heller has joined her inside the courthouse.
Lindsay Lohan is appearing in a Los Angeles court Wednesday morning to try and escape being sentenced to jail, but her judge is Stephanie Sautner, who didn't mince words last year when she told Lindsay she didn't want to see her in court again, and RadarOnline.com isthere live and bringing you updates as the hearing takes place.
The 26-year-old actress has a pretrial hearing for her case of lying to the cops in connection with her car accident in Santa Monica last summer. She pled not guilty to the charge on January 15, 2013.
Lindsay's legal representation has been in question lately, since she fired her high-powered attorney Shawn Holley and replaced her with New York attorney Mark Heller, who is not licensed to practice in California.
Heller's latest legal move was to have a doctor send a note to the court saying that Lindsay was too sick to attend the hearing on Wednesday, but when pictures surfaced of her shopping the same day the note was sent she changed her story and high-tailed it back to LA for the court appearance.
Stay with RadarOnline.com for live updates.