Larry Hagman's $5.2 Million Beachfront Penthouse For Sale, Take A Peek Inside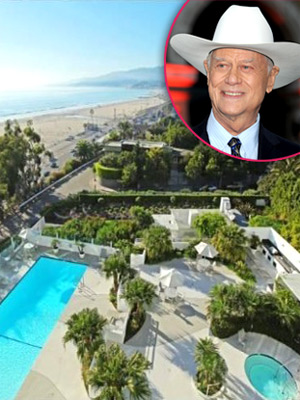 The stunning beachfront penthouse that Larry Hagman once owned is going on the market for $5.2 million.
The Santa Monica condo boasts breathtaking views of the Southern California coast.
Hagman - who died in November at the age of 81 - shared the 3,100 square foot property with his wife Maj.
From his floor-to-ceiling windows the Dallas star could look out at the Pacific Ocean, taking in the view from nearby Palos Verdes and Malibu out to Catalina Island.
Article continues below advertisement
In addition to dining, sleeping and eating with the ocean as their backdrop the Hagmans' used a semi-private glass elevator they only shared with seven other residents.
Photos of the interior show the marble-lined bathroom. There are also shots of the swimming pool used by residents of the exclusive 101 Ocean Avenue building.
Perhaps the most touching photo is a view of the Pacific at sunset taken on the Hagmans' patio. Sitting on the table is one of Larry's signature Stetson hats, a bottle of red wine and two glasses.