Exclusive
Family Feud! Jessica Simpson Refuses To Work With Dad Joe On Her New Sitcom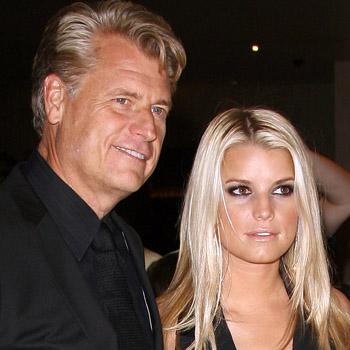 Joe Simpson is the executive producer on her daughter Jessica's new TV show, but don't expect the pair to reconcile any time soon.
When the singer-turned-actress begins taping scenes for her semi-autobiographical NBC sitcom her recently outed father won't be on set, RadarOnline.com has learned exclusively.
Jessica and Joe are STILL estranged, a source close to the situation dishes to Radar. And just like when she filmed Fashion Star, Joe will be there to oversee production only when she's not there.
Article continues below advertisement
Joe has been linked with men in a gay scandal as his marriage to Jessica's mom Tina ended.
"Don't be fooled that because Joe is executive producer for Jessica's new show she has now forgiven him for cheating on Tina," a source close to the Simpson family told RadarOnline.
"In fact, they still don't talk and Jessica doesn't want anything to do with her dad. He's her manager, that's all.
"He won't be on set when she is. Jessica will film scenes and Joe will have to review it later on a recording and discuss the show with other producers.
"Joe will have his say on how the show should work, but Jessica will make the final call. The only reason his name is on the credits for the show is simply because he's still her manager.
"If Jessica had it her way, Joe wouldn't be involved at all. However, she's still under contract to be managed by him so there's nothing else she can do."
As RadarOnline.com previously reported, Jessica and her fiance Eric Johnson spent much of their recent Hawaiian getaway fighting over her treatment of her father.
Article continues below advertisement
"It's something they can't see eye-to-eye on, and it really spoiled the trip for a lot of family members who felt uncomfortable in their presence," the source said.
"Jessica is still keeping Joe at an arms-length following news of the scandal and she can't forgive him yet for what she did to Tina. She just doesn't want anything to do with him right now.
"But Eric thinks she's being too hard on Joe. In his eyes he's a decent man who made a terrible mistake and should be given another chance. However, Jessica countered that Eric doesn't know Joe the way she does, and if Joe is in their life he will destroy what they have.
"In what was supposed to be a relaxing time for the pair of them actually turned out to be more stressful," the source revealed.