Exclusive
Jessica Simpson & Fiance Eric Johnson Fighting Over Her Treatment Of Dad Joe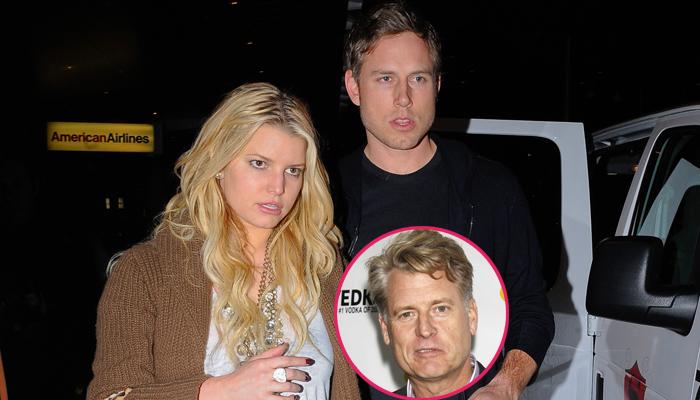 Jessica Simpson and her fiance Eric Johnson spent much of their recent Hawaiian getaway fighting over her treatment of her father Joe, RadarOnline.com is exclusively reporting.
The 32-year-old singer-turned-fashion designer still wants nothing to do with Joe, 54, after a number of secret gay trysts he had embarked on were exposed, and his marriage to Jessica's mom Tina fell apart.
However, Eric, 33, believes deep down that Joe is a good person, and he thinks he's being treated unfairly by his family, causing considerable friction between him and Jessica. "Jessica and Eric were constantly arguing about Joe during their stay in Hawaii," a source close to the Simpson family reveals.
Article continues below advertisement
"It's something they can't see eye-to-eye on, and it really spoiled the trip for a lot of family members who felt uncomfortable in their presence.
"Jessica is still keeping Joe at an arms-length following news of the scandal and she can't forgive him yet for what she did to Tina. She just doesn't want anything to do with him right now.
"But Eric thinks she's being too hard on Joe. In his eyes he's a decent man who made a terrible mistake and should be given another chance. However, Jessica countered that Eric doesn't know Joe the way she does, and if Joe is in their life he will destroy what they have.
"In what was supposed to be a relaxing time for the pair of them actually turned out to be more stressful," the source divulges.
As RadarOnline.com previously reported, Joe was snapped by himself riding a bicycle in Hawaii on Tuesday, weeks after his family arrived to celebrate the holidays.
The father of Jessica and Ashlee Simpson wore a white ball cap, Nike T-shirt and shorts on the outing, sporting a bit of facial stubble. The showbiz whiz tweeted that he was spending time with his granddaughter Tuesday, writing, "Sittin by the Ocean enjoying my beautiful maxwell. She reminds me so much of Jess as a baby. So blessed!"
Joe's much-needed vacation came after a tumultuous 2012. Jessica's former manager was implicated in a gay scandal following his separation from Tina after 34 years of marriage.
He was then linked to aspiring model Bryce Chandler Hill and male escort Joey Anderson.