'So Blessed' Joe Simpson Bikes Around Hawaii By Himself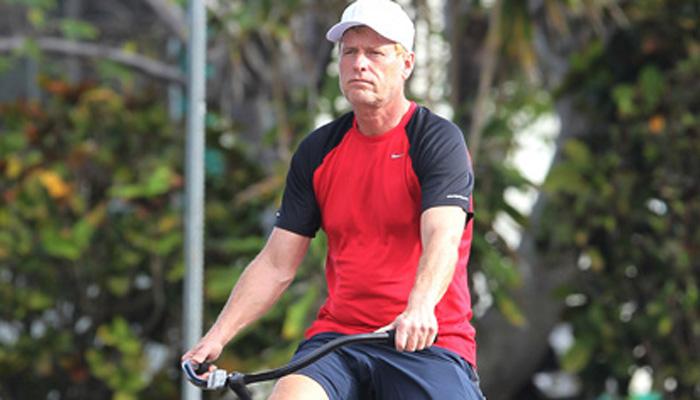 Joe Simpson was snapped by himself riding a bicycle in Hawaii on Tuesday, weeks after his family visited the islands to celebrate the holidays, and we've got the shots for you right here on RadarOnline.com.
The father of Jessica and Ashlee Simpson wore a white ball cap, Nike T-shirt and shorts on the outing, sporting a bit of facial stubble. The show biz whiz tweeted that he was spending time with his granddaughter Tuesday, writing, "Sittin by the Ocean enjoying my beautiful maxwell. She reminds me so much of Jess as a baby. So blessed!"
Article continues below advertisement
Last month, Joe's family was snapped in Hawaii over the holidays; though he was not photographed with his daughters, he was seen on another bike ride with Jessica's fiance Eric Johnson.
As we previously reported, the 54-year-old was implicated in a gay scandal following his separation from wife Tina after 34 years together.
Joe's been linked to an aspiring model Bryce Chandler Hill and male escort Joey Anderson, who revealed the stage dad is big into "a** play.
"He enjoyed kissing very much. Lots of body contact, I was on top of him, he was on top of me. We rolled around," Anderson told the National Enquirer of their tryst, adding Joe was "very passionate" and "very horny."