Amazing Photo! Infant in Womb Reaches Out & Grabs Doctor's Hand During C-Section!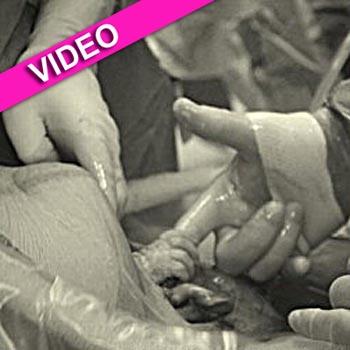 Wow! In a truly amazing photograph, a baby in Arizona -- being delivered via C-section -- is snapped reaching out of her mother's womb to grab the finger of the doctor delivering her!
The photo of little Nevaeh Atkins -- holding the finger of Dr. Allan Sawyer -- was taken by her dad on October 9 just before her delivery.
"I just thought right away that it was a beautiful, amazing photo that I had never seen before," Nevaeh's mother, Alicia Atkins, told ABCNews.com. "I knew it was special right away.
Article continues below advertisement
"When my doctor broke my water, the doctor told my husband, 'Hey, she's holding my finger,'" Atkins said. "He had my camera, and so they were able to capture the moment of her holding his hand."
The Phoenix-area mom first saw the photo on October 10 -- a day after giving birth. Then on December 26, she posted it on the Facebook page of her Glendale, Ariz., photography company, A Classic Pin-Up, where it quickly attracted a lot of attention.
Even Nevaeh's two older brothers, ages 2 and 3, were amazed at the touching photo.
"Every time they see it on TV, they say, 'That's Nevaeh's hand,'" Atkins said.
Atkins kept the photo private for several weeks after the birth so she could enlarged it to give as a gift to Dr. Sawyer. She wanted him to see it first and to see it big.
"I've never captured that picture before," Sawyer told local ABC News affiliate KNXV. "It's really rare."
Article continues below advertisement
Atkins says after she gave the present to Dr. Sawyer she decided to post it online.
"We actually weren't going to put a copy of the photo in our house because we didn't know the reaction of people, whether it was too graphic or not," Atkins told ABCNews.com.
Atkins said after all the attention the photo has received, she and her husband changed their minds. Now, Nevaeh (or "heaven" spelled backward) will grow up with it.