Bikini Babes & Hunks In Trunks! 20 Hottest Beach Bods Of The Holidays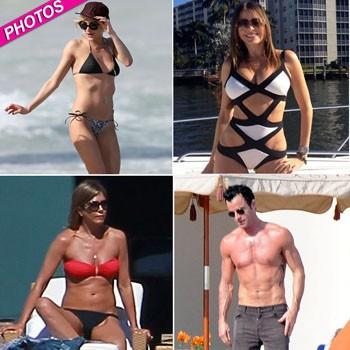 'Twas the season to be sexy on the beach!
From the Gold Coast of Australia to St. Barts, Hollywood's hottest stars weren't shy about stripping down and showing off their smokin' hot beach bodies this holiday season – andRadarOnline.com has the 20 hottest hunks in trunks and bikini babes from Thanksgiving to New Years in a special photo feature.
While her big sis, Jessica Simpson, flaunted her enormous bikini baby bump in Hawaii,Ashlee stripped down into the skimpiest swimsuit imaginable and showed off her skinny limbs. Also adding a little aloha wasLea Michele, who showed off her rockin' bod in a red hot L*SPACE strapless number.
Article continues below advertisement
Newly single Bethenny Frankel spent Thanksgiving weekend looking white hot in Miami, where Sofia Vergararang in 2013 the sexiest way possible – in a bondage style bathing suit.
What other stars steamed up the beaches over the 2012 holiday season? Find out by clicking here.