Super Skinny Bikini Girl Ashlee Simpson Hits The Beach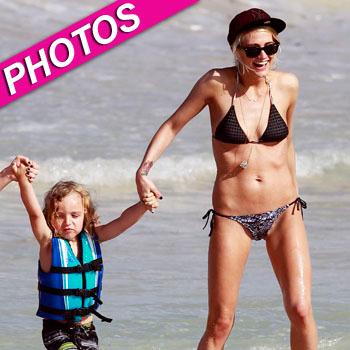 It's been a tale of two contrasting celebrity sisters this holiday season in Hawaii! While pregnant Jessica Simpson has been showing off her expanding girth, her sister Ashlee Simpson is displaying her stick thin body in a bikini.
Ashlee couldn't look more different these days than big sis Jessica while they've been spending family time together in Hawaii.
But on Saturday, it was all about Ashlee's son Bronx Wentz, 4, as the adorable mother/son duo played on a Hawaiian beach. Ashlee divorced his dad, rocker Pete Wentz, last year.
Article continues below advertisement
Wearing sunglasses, necklaces, a cap, and a teeny weeny bikini that left little to the imagination, Ashlee looked like she didn't have a care in the world as she frolicked in the water with Bronx, who sported a life jacket and swim shorts.
Later, the fun mom heaped sand around her curly haired son on the beach and he seemed to relish getting dirty! And Ashlee couldn't stop smiling all day as she hung out with her number one little man.