It's No (Red) Bull! Chicago Considers Banning Highly Caffeinated Energy Drinks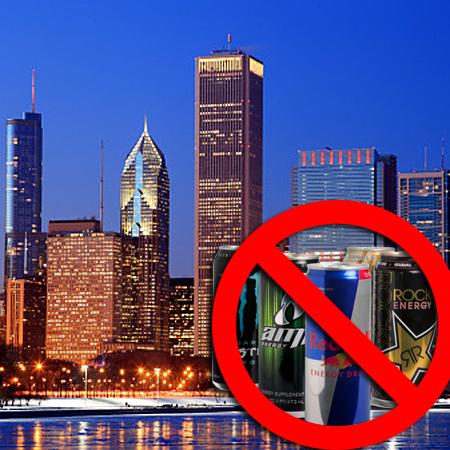 Chicago - the same city that once banned the sale of foie gras, only to later rescind the ordnance – now is considering banning energy drinks like Red Bull, Monster, Full Throttle, 5-hour Energy and others, citing concerns they are dangerous to people's health, RadarOnline.com is reporting.
The City Council's most powerful alderman – Ed Burke - Thursday proposed the surprise crackdown that would ban the sale and distribution of highly caffeinated energy drinks, not just to minors, but to consumers of all ages.
Article continues below advertisement
"No person shall sell, give away, barter, exchange or otherwise furnish any energy drink," Burke's proposed ordinance reads.
"Researchers found that these energy drinks contain high levels of caffeine and warned of dangerous, even life threatening, effects on blood pressure, heart rate and brain function," it also states.
The ordinance defines an energy drink as a bottled or canned beverage that contains more than 180 mg of caffeine and containing Taurine or Guarana.
The legislation would include a $100 to $500 fine for each offense.
Alderman Burke, who's chairman of the City Council's Finance Committee, not only wants to ban their sale in the city of Chicago, but their distribution as well.
Just last month in Chicago, Health Committee Chairman George Cardenas proposed a similar ban on selling energy drinks – but his ordinance would ban the sale to only minors, as opposed to everyone.
Article continues below advertisement
Still, Cardenas said he wasn't actually interested in banning the sale of energy drinks to young people, but that he simply wanted to get the industry's attention and educate parents and teens about the dangers of energy drinks.
"You start with that premise because it brings more attention to the problem. It's a more serious conversation. If we just hold hearings, people won't take it seriously," Cardenas told the Chicago Sun-Times on the day he introduced the ordinance.
However, Burke is serious about his tougher proposed ban.
"Kids are drinking more and more of them. And so Chicago ought to be on the forefront of public awareness and education about the potential dangers of these products," Burke told NBC Chicago on Thursday night.
In an interview with CBS 2 in Chicago, Burke said the Windy City would become the first city in the nation to ban energy drinks. He dismissed any criticisms that the ordinance goes too far.
Article continues below advertisement
"I heard it 20 years ago, when I introduced the first ordinance to ban smoking in Chicago," Burke said. "I heard the argument that you shouldn't regulate peoples' conduct. Well, now we have a smoke-free environment here."
"The public's health is getting better because of the smoking ban," he said.
Burke – citing a federal study - says 20,000 people were admitted to emergency rooms in 2011 because of energy drinks.