Doppelgänger Double Takes: Perfect Strangers Who Look Like Twins!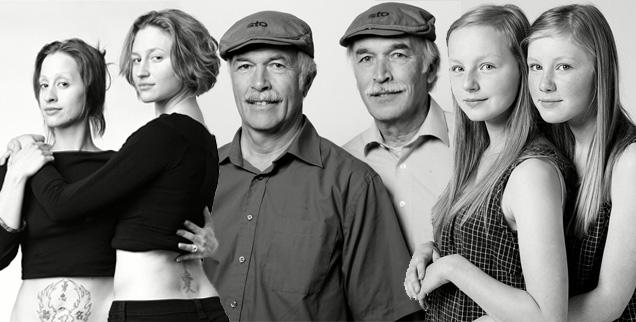 They say that everyone has a double somewhere, and a Canadian photographer has made it his life mission to find them!
Francois Brunelle, of Montréal, Canada, has scoured the globe for doppelgängers for his groundbreaking I'm Not A Look-Alike! project, and RadarOnline.com has photos from the stunning collection of portraits of complete strangers who look like identical twins.
The photographer is fascinated by the resemblance between look-alikes, reveals his website. "It is not about looking like famous people. The project is about looking like other people.
Article continues below advertisement
"The fact that two persons, totally unrelated to each other, sometimes born in different countries, share the same physical appearance is really the essence of the project," he wrote.
Among the outstanding alter egos are Nina-Rose Singh and Anna Rubin, who even have matching tribal tattoos, while Germans Rudi Kistler and Maurus Oehman have identical neatly trimmed mustaches and a taste of dapper flat caps.
Having first been inspired by the work of André de Dienes and Richard Avedon at age 15, Brunelle became obsessed with portrait photography as a means of visual expression "to capture the elusive human soul."
His goal is to shoot 200 look-alike couples, of which he has achieved half of so far, and is still looking for more around the world.
Rather than being dressed up to look more like each other, Brunelle said: "The resemblance of the look-alikes must be entirely natural, unaided by extra makeup or styling. However, the models are not restricted in the choices they make concerning their appearance."