Body Art Of The Rich & Famous! Stars With Neck Tattoos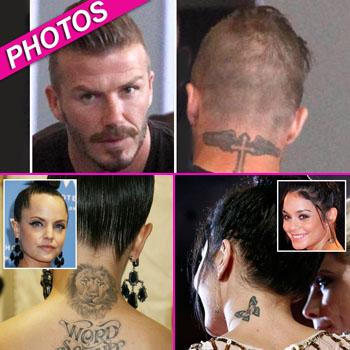 That looks painful!
Spending their lives in front of the cameras hasn't stopped Hollywood's hottest stars from getting permanently inked in super visible places, including their necks! RadarOnline.com has photos of 10 stars who sport super big neck tattoos.
Rihanna and Chris Brown clearly have bonded over body art. The scandalous on-again-off-again lovers both have extensive collections of ink all over their bodies, but most noticeably, their necks. Brown's neck tattoo, which he claims is a sugar skull, got him a lot of attention after people believed it was actually of a battered Rihanna after their infamous domestic dispute .
Article continues below advertisement
Jessica Alba may be conservative when it comes to clothes, but the Hollywood mom isn't afraid of permanent body art and even has a little ink on the back of her neck.
Angelina Jolie's most infamous ink is definitely the Billy Bob tattoo she got while with her former husband, but the blockbuster babe also has several more including one at the nape of her neck reading "know your rights."
Which other stars have neck tattoos? Find out by clicking here.