Crazy Like A Fox? Megan Fox Reveals She Spoke In Tongues Growing Up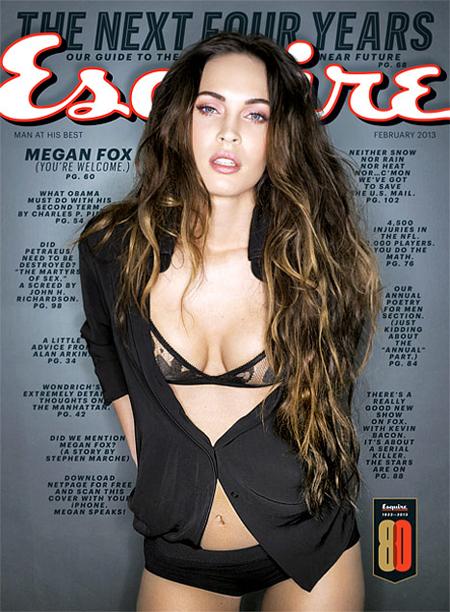 Even motherhood can't soften Megan Fox's natural sex appeal, or curb her off-the-wall attitude!
The Transformers star and new mom bares almost all in lacy lingerie on the cover of the latest Esquire magazine, and inside she opens up about her curious childhood as a member of a religious group that taught her to speak in tongues.
"The energy is so intense in the room that you feel like anything can happen," said Fox referring to her surreal experiences growing up at a Pentecostal church in Tennessee. "They're going to hate that I compare it to this, but have you ever watched footage of a Santeria gathering or someone doing voodoo? You know how palpable the energy is? Whatever's going on there, it's for real."
Article continues below advertisement
The brunette bombshell, who has an obsession with the unusual went on to reveal, "It feels like a lot of energy coming through the top of your head -- I'm going to sound like such a lunatic -- and then your whole body is filled with this electric current.
"And you just start speaking, but you're not thinking because you have no idea what you're saying. Words are coming out of your mouth, and you can't control it. The idea is that it's a language that only God understands.
"It's the language that's spoken in heaven. It's called 'getting the Holy Ghost," explained Megan, who gave birth to son Noah on September 7, but admitted that the experience was far from miraculous!
"It was so bad for me, actually, I was convinced that I was, like, maybe birthing a vampire baby like the one from Twilight," claimed the 26-year-old wife of Beverly Hills 90210 star Brian Austin Green.
Article continues below advertisement
While she is happy to believe in the existence of leprechauns and the Loch Ness monster, the heavily tattooed This Is 40 star's desire to escape reality doesn't stretch as far as drugs and booze, and she claims she never touches either.
"I can't stand pills. I don't like drinking. I don't like feeling out of control," she told Esquire. "I have to feel like I'm in control of my body. And I know what you're thinking, 'Then why would I want to go to church and speak in tongues?'