Megan Fox & Brian Austin Green Welcome Son Noah!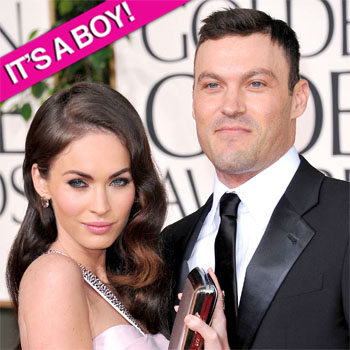 It's a boy!
Megan Fox and her husband Brian Austin Green quietly welcomed a new member to their family last month - a son named Noah. Surprisingly, somehow the high-profile couple managed to keep it secret until now.
"We have been very lucky to have had a peaceful few weeks at home, but I would like to release this myself before others do," Fox wrote on her Facebook page Wednesday.
"I gave birth to our son Noah Shannon Green on September 27th. He is healthy, happy, and perfect.
Article continues below advertisement
"We are humbled to have the opportunity to call ourselves the parents of this beautiful soul and I am forever grateful to God for allowing me to know this kind of boundless, immaculate love," Fox adds in her post.
"Thanks to those of you who wish to send your positive energy and well wishes. May God bless you and your families abundantly."
Throughout her pregnancy, the Transformers beauty didn't publicly comment about reports she was expecting, although her growing baby bump - especially when it was on full display during a vacation in Kona, Hawaii in June - certainly let the cat out of the bag.
She's Got That Natural Mommy Glow! Snooki Shows Off Her Newborn & Makeup-Free Face