Costa Concordia, One Year Anniversary Of Deadly Cruise Ship Voyage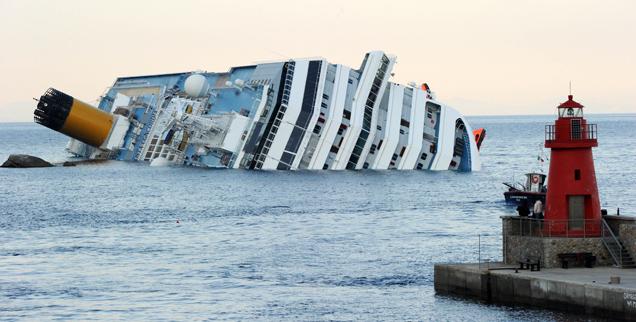 On the one year anniversary of the sinking of the Costa Concordia, the doomed cruise ship is still in the water in Italy -- and officials say it won't be removed until summer at the earliest.
On Saturday, salvage companies announced at a press conference that the ship could be removed by the end of the summer, a few months behind schedule. But even that is optimistic, as they refused to set an exact date. Officials are worried the removal of the ship could wreck the environment in the tourism-dependent island of Giglio. It will be a risky operation, as the Costa Concordia has a tonnage of more than twice that of the Titanic.
Article continues below advertisement
The nightmare first began at 9:45 p.m. on January 13, 2012 when the Costa Concordia struck a rock off the coast of Giglio, ripping a 160 foot gash in the left side of the hull. The accident flooded the engine room and the ship drifted back to Giglio Island, where it ran aground.
Thirty passengers died, with two others missing and their remains presumed within the shipwreck.
Since the disaster, the ship has remained a shocking sight, resting on its side in the water, and Italian officials say more time and money will be needed to remove it. Even though 2,000 tons of fuel have already been pumped out, it is feared more fluids, sewage, and tons of rotting food could leak out and pollute the water. The $400 million salvage operation is being called the most challenging ever performed.
Nick Sloane, one of the salvage experts overseeing the ship's removal, told The Globe And Mail, "there's a 70 percent chance" of success.
Meanwhile, prosecutors are expected to ask for criminal indictments within weeks against Francesco Schettino, the captain who crashed the ship and was excoriated for his behavior afterwards. The charges could reportedly include abandoning ship before his passengers and manslaughter.
Article continues below advertisement