Chelsea Handler Jokes That Ryan Seacrest's Romance With Julianne Hough Is To Prove He's Straight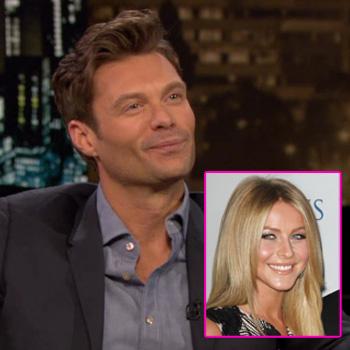 Article continues below advertisement
Ryan said Nicki and Mariah have "come to work and disagreed about a thing or two, here or there, but now, today, they're fine."
Ryan, 38, said he pities Keith Urban -- "A great musician and very, very talented," he said -- because he's stuck between the dueling divas.
As for the show's elder statesman, Randy Jackson, Ryan said, "My dog is the diffuser."
The conversation soon turned to Ryan's relationship with Rock of Ages star Julianne, 25.
Watch the video on RadarOnline.com
"She's so beautiful -- stunning, stunning," Ryan said. "She is phenomenal; she is the best part of everyday."
Chelsea told Ryan, "I know that you want to get married and have a family," to which Ryan said, "We both do."
"Well … what's going on?" Chelsea asked Ryan, who bounced the personal question back at her.
"I'm not getting married, I'm not interested in that," Chelsea said. "I don't have to prove to anyone that I'm straight!"
Article continues below advertisement
Ryan –long rumored to be gay - took the jab in stride, playing it off with a laugh.
Last year, when asked about her relationship, Julianne said, "I'm kind of dating my first celebrity crush, so I feel pretty fortunate.
''I was reluctant because he is such an influential guy, and what if it didn't work out?" she recalled. "Our first date, I was so nervous that I just sat there and interviewed him with questions like, 'Are you loyal?' and, 'Are you close to your family?'''
American Idol's 12th season continues Wednesday on Fox at 8/7c.