Spoiler Alert: Who Won The X Factor & Its $5 Million Grand Prize?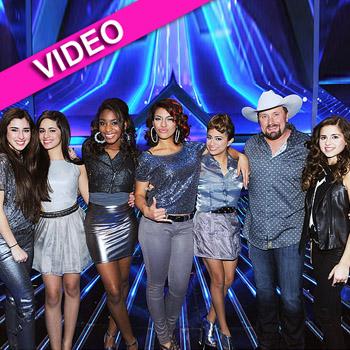 The X Factor crowned it's season two champ Thursday night, so who walked away with bragging rights -- and a staggering $5 million recording contract?
L.A. Reid's cowboy hat wearing Tate Stevens is the big winner of season two of The X Factor, beating Britney Spears' contestant, 13-year-old Carly Rose Sonenclar, and Simon Cowell's girl group Fifth Harmony.
Stevens, 37, is a father of two and a road worker from Belton, Missouri.
Article continues below advertisement
"First and foremost I got to thank the man upstairs for taking care of me, my family, all the country music fans – God bless you," an emotional Stevens said after hearing the results. "Thank you so much for all the votes. This is the best day of my life."
L.A. said, "You deserve this. I'm proud to work with you. I think you represent The X Factor really, really well. So on behalf of Simon and myself and all the judges, congratulations."
Tate blew the judges away during his St. Louis audition, belting out a strong cover of Anything Goes by Cole Porter. Throughout the season, he never faltered and continually impressed the judges and quickly became a fan favorite
Britney's contestant, fellow fan favorite Carly Rose Sonenclar, came in second place -- one day after she sang a duet with a shaky LeAnn Rimes, who has since adamantly denied speculation that perhaps, she had been drinking prior to her performance.
Article continues below advertisement
Third place went to Simon Cowell's Fifth Harmony.
Member Camila Cabello, said, "I feel like in this competition we've gained more than $5 million could because we've gained friends for life...I'm so happy to be where I am right now."
Simon said, "I have a feeling that we're going to be hearing and seeing a lot more of these girls in the future."
As RadarOnline.com previously reported, when The X Factor returns for its third season next year, L.A. Reid will not be coming back as a judge, and Britney Spears is also expected not to return, as the show continues to revamp in the hopes of finding a wider audience.