Wendy Williams Gives Beyonce A Dunce Cap: 'She Sounds Like She Has A Fifth Grade Education'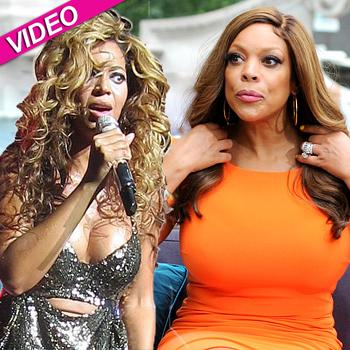 Daytime talk show host Wendy Williams shocked viewers when she dissed Beyonce as dumb on her television show recently, and RadarOnline.com has the clip.
When Williams discussed Beyonce's upcoming HBO documentary in front of a live studio audience, she said, "Fortunately one of the TVs in our kitchen has closed captioning so I can understand what she says, because you know Beyonce can't talk.
Article continues below advertisement
"Beyonce sounds like she has a fifth grade education."
The audience booed, but Williams stuck to her guns, shrugging, "I'm a fan but let's call a spade a spade."
Williams is making an odd habit of criticizing the popular singer. Last year, she implied Beyonce's baby bump was fake after looking at a TV clip of the star.
"What is that? Is that a baby bump?" she asked. "I don't know. I can tell you when I would get out of bed and sit up at the kitchen table I wouldn't be able to sit like that."
But Williams was proven wrong when Beyonce and husband Jay-Z welcomed daughter Blue Ivy in January.
Williams has candidly admitted to her own past personal problems, and as RadarOnline.com recently reported, the TV host revealed her 10-year addiction to cocaine during her 20s.
After Whitney Houston died in February, Williams shuddered, "That could have been me if I hadn't sobered up."
Beyonce's documentary, featuring concert and personal footage, will air February 16. And despite her diss, Williams said, "I am going to be watching this documentary even if she doesn't introduce us to new stuff...I want to watch it."