Team Teresa! New Real Housewife Is A Giudice Pal!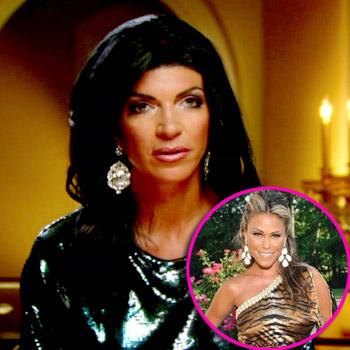 Article continues below advertisement
Jennifer Dalton is reportedly joining the show as a full time housewife and she's been friends with Teresa for a while, All Things Real Housewives exclusively reported.
"Jennifer has been filming non-stop with Teresa, Kim D, and Elvira The Party Planner," the site reports.
"Jennifer is a real estate agent at Sotheby's and is married to a prominent, and very wealthy, New Jersey real estate developer and is reportedly a friend of both Teresa and Dina Manzo. She attended Teresa's Fabellini launch party last season, and she already has a good relationship with Bravo and has appeared on Pregnant in Heels."
Teresa needs all the help she can get! The reunion show was a disaster for Teresa, where she was attacked by all of the women on the show and basically has been without friends including her own relatives for the last few seasons.
Get ready for more drama as The Real Housewives of New Jersey returns to Bravo with bigger and badder fights all lead by everyone's favorite housewife Teresa Giudice and her new pal!