The Real Housewives: Biggest Breadwinners Revealed!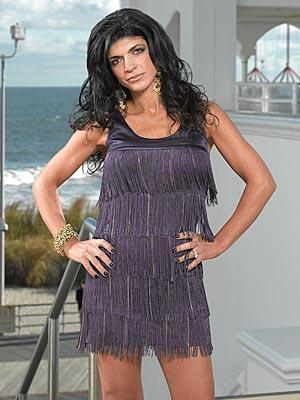 There's a serious wage gap in Housewivesville — and it's the bitchiest who bring home the most bacon. A certain notorious Italian-American troublemaker (Teresa Giudice) pulls in well over a half million dollars for the sensational scenes she causes — helping to make the New Jersey franchise the most-watched of them all, with an audience of 3 million.
That's three times as many viewers as the Miami show attracts — and Floridian cast members feel the difference in their paychecks. Not one of them gets more than $10,000 a season — surely less than they spend on hair, clothing and makeup glitzy enough to make them camera-worthy. So they reportedly lose money on the gig!
Article continues below advertisement
Teresa Giudice, New Jersey
$600,000
Her unique ability to upend tables and start familial wars has turned the dark diva into a standout star. "People want to tune in to watch how wacky she is, and she's capitalizing on it," a source says.
LuAnn de Lesseps & Ramona Singer, New York City
$500,000
After their castmates Alex McCord and Jill Zarin were given the ax late last year, the two remaining original NYC stars were given huge raises — nearly doubling their salaries.
Vicki Gunvalson, Orange County
$450,000
The blonde insurance agent seems to have guaranteed herself a lucrative longtime gig: she's the only member of the Southern California show who's been featured for eight seasons.
Nene Leakes, Atlanta
$350,000
The outspoken actress appears on The New Normal and Glee and was also once a contestant on The Celebrity Apprentice. She's accumulated a net worth of $4.5 million, thanks to her popularity with viewers — and her big mouth!
Tamra Barney, Orange County
$350,000
The real estate agent recently announced plans to open her own gym. But she needn't worry about her physical fitness or her fiscal fitness: she's got plenty of dough to go along with that perfect figure.
Caroline Manzo, New Jersey
$300,000
The mother of three insulted her castmate Danielle Staub by saying, "Hang out with trash, and you start to smell like garbage." Lucky for Caroline, hanging out with trash is making her smell filthy rich.