Showtime's New Series 'The Vatican' Is An 'Assault On The Catholic Church,' Slams Right Wing Group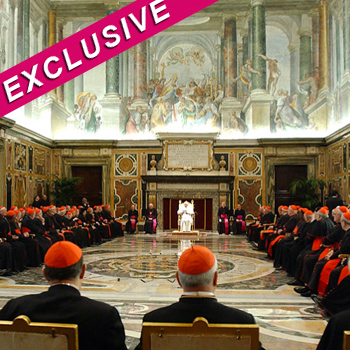 By Debbie Emery - RadarOnline.com Reporter
Showtime is known for pushing the boundaries with controversial and conflicted heroes such as a serial killer with a conscience or a drug-addicted nurse, and RadarOnline.com can exclusively reveal that their new series about the Catholic Church has outraged conservative groups before it has even aired.
The Vatican will air on Showtime in 2013 and with Ridley Scott directing his first TV pilot, it is guaranteed not to pull any punches!
Article continues below advertisement
"Showtime, which already attacks Catholicism with The Borgias and depicted serial killer Dexter with a halo for murdering Christians, now wants to attack the Vatican directly," Dan Gainor of the Culture and Media Institute in an exclusive interview with RadarOnline.com.
"Doesn't Hollywood ever tire of abusing the Catholic Church? Yes, faith must be scary to those who work in TV, but not to most Americans."
He continued, "The network, working under the slogan 'Showtime Saves,' creates foul and despicable 'entertainment.' Now it promises 'a provocative contemporary genre thriller about spirituality, power and politics.'
"Left Coast liberals have been on an anti-Catholic jihad for some time. This new show is just the latest assault," slammed Gainor.
This is not the first time that the cable network has caused great offense to a large group! As RadarOnline.com previously reported, the people of Lebanon expressed their disgust at how their country was portrayed on the hit drama Homeland.
Article continues below advertisement
"This kind of film damages the image of Lebanon — it is not fair to us and it's not true, it is not portraying reality," tourism minister Fadi Abboud told the Beirut-based Executive magazine, while demanding an apology from the producers and threatening to take legal action.
Production on The Vatican, begins next year. Writer Paul Attanasio, of House and Donnie Brasco fame, Scott and David Zucker (The Good Wife) will executive produce the series.