Controversial Jesus Of Nazareth Film Sparks Outrage Before The Script Is Even Written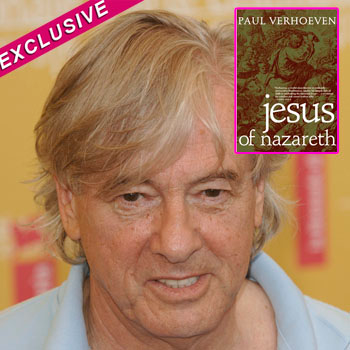 By Debbie Emery - RadarOnline.com Reporter
A controversial upcoming film about the conception of Jesus doesn't even have a script written yet and it is already causing outrage among right wing groups, RadarOnline.com can exclusively reveal.
Total Recall director Paul Verhoeven is planning a big screen adaptation of his 2010 book, Jesus of Nazareth, which suggests that Jesus was not really the son of God but instead the result of Mary being raped by a Roman solider.
Article continues below advertisement
Following in the high-profile footsteps of religious movies such as The Passion Of Christ and Ridley Scott's rumored upcoming Moses adaptation, re-writing the story of the immaculate conception has sparked accusations that the filmmaker is attacking Christianity.
"Hollywood isn't anti-Christian, we are constantly told. Yet the evidence keeps piling up that it is precisely that way," Dan Gainor of the Culture and Media Institute exclusively told RadarOnline.com.
"Showgirls director Paul Verhoeven now plans to film a made-up version of the life of Jesus where Mary 'is raped by a Roman soldier instead of experiencing an immaculate conception,' according to Playlist," he explained.
"This isn't accidental. Christians and Christian faith have been under decades of attack by hedonist Hollywood that is desperate to rationalize a culture of immorality," claimed Gainor.
Article continues below advertisement
"No doubt, major media outlets will celebrate this film's assault as 'inspired' and call on Christians to tolerate offensive attacks on their most essential beliefs."
With the project only being announced last week and no stars even yet attached to it, a representative for Verhoeven told RadarOnline.com that any reaction is premature.
"There is as yet no script on the subject, and until there is, there's nothing to discuss. It will be at least six months before we have a script," the director's spokesperson revealed.