Exclusive
Kate Upton's Sexy Nun Monokini Is 'Turning Religion, God and Belief Into A Punch Line,' Slams Right Wing Group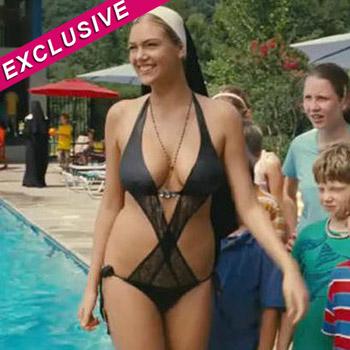 It isn't just Catholics who are upset about Kate Upton's saucy and scandalous nun outfit in The Three Stooges, the sexy Sports Illustrated model is now being slammed by a right wing conservative group who believe her sexy costume shows a more deep-rooted problem in Hollywood, RadarOnline.com can exclusively reveal.
"This isn't about Kate Upton not wearing many clothes. What's really revealing is how Hollywood can even take a benign plot like The Three Stooges and turn it into an attack on Catholics," Dan Gainor of the Culture and Media Institute told RadarOnline.com in an exclusive interview.
Article continues below advertisement
"The makers of the movie defend it as just 'slapstick,'" he told us. "What they leave out is that the group they are slapping with that stick is Catholics -- a faith that is often under attack in Hollywood because of its stance against gay marriage.
As RadarOnline.com previously reported, the 19-year-old model who plays Sister Bernice emerges from a swimming pool with a nun's hat on, a rosary around her neck, and a black lacy monokini that covers little else.
The slap in the face to religion has already sparked intense outrage from the Catholic League since the film opened on Friday, and Gainor explained why.
"Filmgoers have endured a series of movies -- The Da Vinci Code, Angels and Demons, Dogma and V For Vendetta -- all depicting the Catholic Church as evil," Gainor said.
"People of faith are tired of seeing Hollywood turn religion, God and belief into a punch line. And to use pop culture icons like The Three Stooges to pitch yet another anti-Catholic plot is blatant bigotry."