Reese's Two Husbands! Witherspoon Watches Son's Soccer Game With Ex and Current Spouses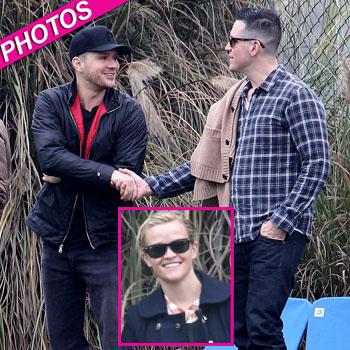 In a delicate scene familiar to many divorced moms, Reese Witherspoon spent Saturday afternoon watching her son's soccer game with both her current and ex-husband and RadarOnline.com has the photos from their family day out.
It was all smiles and cordial small talk as Reese's new husband, agent Jim Toth, and former husband, actor Ryan Phillippe, acted like old friends. Everyone came together and made nice as Witherspoon and Phillippe's son Deacon, 9, competed in a soccer game in Brentwood. Toth shook Phillippe's hand in greeting and the two appeared to get along well.
Article continues below advertisement
Later, Reese and Jim enjoyed watching the game in a group that included friends and the actress' mother, Betty Witherspoon.
Jim got so into the game that he put his hands up in the air and cheered for Deacon while Reese smiled. The couple are new parents themselves, having welcomed their own son, Tennessee, on September 27, and Witherspoon bundled up in a blue pea coat to ward off the Southern California chill.