Real Housewife Tamra Barney Plans An O.C. Wedding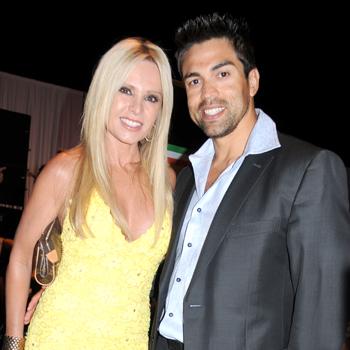 It looks like The Real Housewives of Orange County star Tamra Barney wants to keep her wedding to fiance Eddie Judge right where she's most comfortable--in the O.C.!
Throughout the holidays, Tamra couldn't stop talking about her wedding plans.
She showed friends and fans a photo of a possible location at Newport Beach's exclusive Resort at Pelican Hill on her Facebook page on Saturday and wrote, "another one of our options...what do you think?" The gorgeous site overlooks the Pacific and boasts a huge gazebo decorated with flowers and space for hundreds of guests.
Article continues below advertisement
The blonde RHOOC star, who is opening a gym in Orange County with Judge, sounds like she's finally free to give the wedding her full attention.
She confided to her Facebook posse on Saturday, "Did I tell you...I'm getting married! Wedding plans had to be put on hold due to the fitness studio taking up SO much of our time. Now that the studio is done we are planning our wedding. I can't wait to share it with you xoxo."
We wouldn't be surprised if the ceremony becomes a TV spectacular. Eddie proposed to Tamra during season 7, and she has admitted to speaking to Housewives producers about getting married on the show's eighth season, which will premiere this spring on Bravo.
In a segment already filmed for the series, Tamra goes shopping for a wedding dress. Producers also filmed her bachelorette party with most of the cast.
Article continues below advertisement