Live Like A Star! Take A Peek Inside The Luxurious Resort At Pelican Hill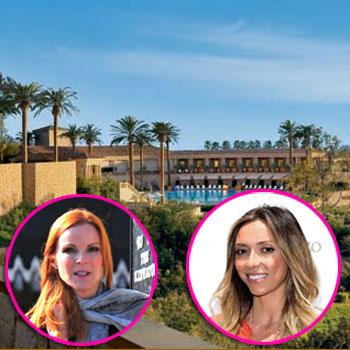 When Los Angeles celebrities want to take a break from the hustle and bustle of life in the fast lane, they only need to head an hour south to The Resort at Pelican Hill, and RadarOnline.com can give you a peek inside the luxurious resort.
Sophia Vergara, Marcia Cross, Giuliana Rancic, Brooke Burke, Mario Lopez, Kate Beckinsale, Rebecca Gayheart and Eric Dane are among the countless celebs who have traveled to beautiful Newport Beach to live the life of luxury inside the stunning resort which is set on 504 acres and overlooks the Pacific ocean.
Article continues below advertisement
90210 star Ian Ziering, Michael Vartan and Boston Celtics forward Paul Pierce all loved the place so much, they wed their partners there!
With 128 two, three and four-bedroom villas with magnificent coastal views and an unparalleled array of appointments catering to a star's every whim, it's no surprise that Pelican Hill was voted the number one resort in the United States by Condé Nast Traveler magazine.
And, if you get bored of just lazing around the iconic "Coliseum Pool" or pampering yourself at the five star spa, then you can always go for a round or two on the Pelican Hill Golf Club with 36 dramatic holes by Tom Fazio, nearly all with ocean panoramas.
So, if you want to live like an A-lister, (even if only for a weekend!!) check out Pelican Hill Resort and if you fancy a specially tailored holiday break away from the stresses of family life, they can help cater to your every whim! Details at their holiday section.