Escape From Real Housewives Drama! Porsha Stewart's Sumptuous & Elegant Atlanta Home: Take A Peek Inside!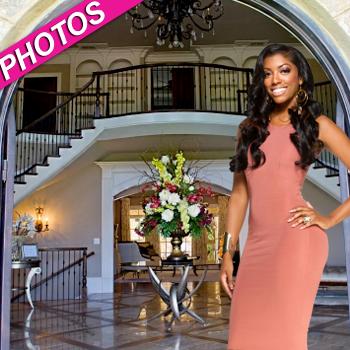 When you think of the Real Housewives of Atlanta the first thing that usually springs to mind is non-stop insane drama! So it comes as somewhat of a shock to take a peek inside the newest cast member's sumptuous mansion and find a tranquil oasis of elegance and calm.
Porsha Stewart, the granddaughter of Civil Rights leader and philanthropist, Rev. Hosea Williams and wife of former NFL football player Kordell Stewart, is offering up a glance inside her home in the exclusive Buckhead community of Atlanta and RadarOnline.com has the photos and details, courtesy of Bravo.com.
Article continues below advertisement
Sumptuous, elegant and tasteful are all adjectives that could be used to describe Porsha's beautiful home. With large open spaces, high ceilings, a muted color scheme throughout and tons of natural light pouring in through the huge windows, it seems that the house was purposely designed to provide a relaxing and must needed respite from the tensions of a hard day's battling with Atlanta's resident bad girl, Nene Leakes!
Front and center in the huge foyer is a stunning double-staircase which adds a large dose of glamor to the open and spacious area. The upstairs hall, living room and entrance hall are all visible from the white painted foyer, with gleaming polished wood flooring and stunning silver and glass furniture offering up a taste of what's to come further inside the house.
The classy, formal sitting room incorporates built-ins and French doors that are a staple in all of Atlanta's most elegant homes. And a mocha-colored couch at one end of the living room adds contrast to the room's understated cream theme.
Article continues below advertisement
Porsha's well equipped kitchen consists of tasteful dark wood cabinets, granite counters and two food prep islands lined with comfy but sophisticated red and gold embroidered breakfast chairs. Flowers brighten the kitchen's centerpiece, a large window filled with natural light.
The kitchen opens into the family room, making for a relaxed, fluid floor plan. Earth tones make the space cozy, even with its super-high ceiling.
The large formal dining room's nude color scheme pops with the furniture's rich fabrics and provides the perfect setting to enjoy dinner parties with Atlanta's elite -- and with a total of ten place settings it's guaranteed no-one will be left off the invite list!
Throughout the home are reminders of Porsha's family and friends. Pictures of her adorable stepson Syre are intermixed with her framed marriage certificate and wedding photos along with pictures of the philanthropist and her girlfriends.
Article continues below advertisement