Money Really Can't Buy You Class! Inside the Gaudy, Insanely Opulent Lives Of Mexico's Spoiled Nouveau Riche Heiresses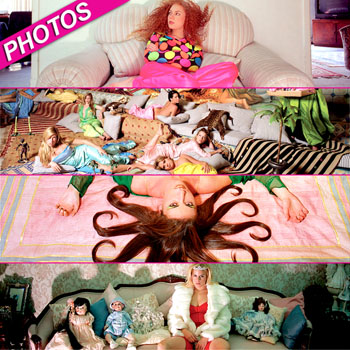 By Debbie Emery - RadarOnline.com Reporter
Proving once again that money really can't buy you class -- even if it comes in the form of billions of Mexican pesos -- the spoiled heiresses from the richest families in Mexico have posed in an overly-opulent series of portraits for artist Daniela Rossell, and RadarOnline.com has the often bizarre and always over-the-top images.
The millionaire models play "walk-on parts" in the shoots staged in their own kitschy mansions surrounded by ornate gold furniture, marble pillars, and in one case even a fully-grown stuffed lion!
Article continues below advertisement
Taken from the artist's 2002 book, Ricas y Famosas, meaning "Rich And Famous," the images are a startling visual insight in to the decadent lives of the Latina socialites that make Paris Hilton and Petra Ecclestone seem classy -- and is disturbingly a world away from the poverty and drug-induced violence that so much of Mexico's population suffer through.
"The following images depict actual settings. The photographic subjects are representing themselves. Any resemblance with real events is not coincidental," Rossell, who is half-Mexican, wrote in the book's preface.
In one outrageous and almost obscene photo, a young blonde poses in a short tennis skirt holding a racket with her foot provocatively placed on a real-life stuffed lion's head, surrounded by gold glitzy furniture and domineering family portraits.
Another image depicts what looks like a beauty queen after a rough night out! Dressed in a red gown hitched up to her thighs and a tiara perched precariously on her head, the fur-coat clad model sits entranced on a satin couch surrounded by creepy dolls.
Article continues below advertisement