Now That's Rich! Petra Ecclestone Eats Money In Glamorous New Photo Shoot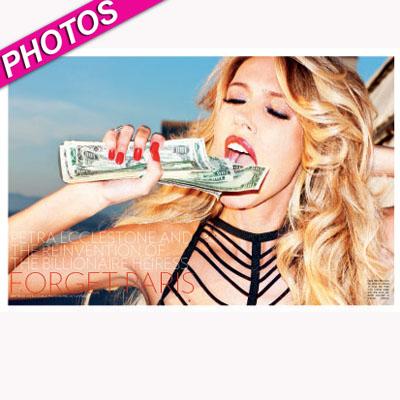 By Alexis Tereszcuk - Radar Senior Reporter
Want to know what money tastes like? Billionaire Petra Ecclestone can tell you.
The 22-year-old heiress posed provocatively with a wad of $100 bills in her mouth and RadarOnline.com has the photos of her rich and racy photo shoot.
Petra, who paid a whopping $85 million for Candy Spelling's Holmby Hills mansion, said that while she might be the richest girl in town she is down to earth -- sort of! 
Article continues below advertisement
"With time, people will get to know the real me and realize that I'm not going to parties and falling out of my dress and getting drunk and all that," Petra told Flaunt magazine, in a thinly veiled dig at her fellow fellow socialites.
The daughter of Formula 1 boss Bernie Ecclestone admits that she has a glamorous lifestyle but insists that she is wise beyond her years.
"Obviously, I don't sit at home knitting all night long, but I am very mature at the end of the day."
Petra also insists that she is a down to earth girl and is by no means a spoiled rich kid. 
"I feel like I always have to defend myself. When you're perceived to be something you're not, it's frustrating.  Americans are more apt to understand my parents' story," she says. "They didn't come from great beginnings, and they had to work very hard to get to where they got... I realize I am very privileged. But there's a difference between being spoiled and privileged."
Article continues below advertisement
Heiress Tamara Ecclestone's Mom Says She Has 'Mental Problems' Because Of Her Spending
Petra Ecclestone's Wedding Night Crashed By Drunken Best Man
Petra Ecclestone Vs. Paris Hilton: Who Wore Leopard Best?