Mike Tyson: 'My Love Triangle With Brad Pitt!'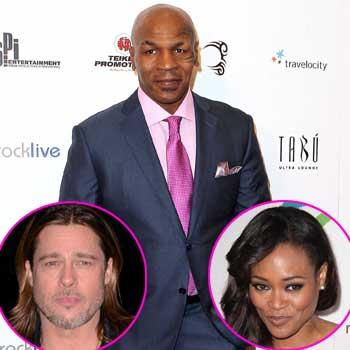 Mike Tyson has revealed how he caught Brad Pitt having sex with his then-wife, actress Robin Givens!
Speaking on the In Depth With Graham Bensinger show on Yahoo! Sports, Tyson told the interviewer about a surprise encounter he had with Pitt while he was in the process of splitting from Head of the Class star Givens in the late '80s.
"I was doing a divorce but I—we—every day, before I would go to my lawyer's office to say she's a pig and stealing, I would go to…her house to have sex with her. This particular day, someone beat me to the punch. And I guess Brad got there earlier than I did."
Article continues below advertisement
The heavyweight champ's reaction? "I was mad as hell. I was going to…you should have saw his face when he saw me," Tyson told Bensinger.
In the explosive video interview, the always-candid Tyson also told Bensinger that he was high on cocaine while playing a role in the smash hit movie The Hangover, released in 2009.
"I was a mess," he admitted. "I was overweight. I was a pig, high on cocaine." But the athlete said the cast helped him through the rough patch. "They had to know I was messed up. I couldn't talk. I had the cocaine talk…So those guys are just beautiful people. They had my back, and I appreciate that and stuff, then they asked me to come back" in The Hangover 2.