Kendra Wilkinson Shares Her Holiday Slim-Down Secrets: Just Say No To Muffin Tops!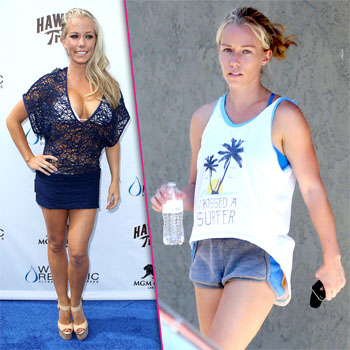 Article continues below advertisement
"Start every day with breakfast and a short workout. Eating breakfast will rev up your metabolism for the day and a short run or a 20 minute yoga session in the morning boosts your energy and keeps your appetite in check for the rest of the day."
She also suggests fueling up on healthy food before gorging on all the fattening fare.
"Never go to a party hungry," she advises. "Eat a small meal before attending cocktail parties, dinner parties, or any events where food will be served. Holiday appetizers are usually fried, stuffed with cheese, or full of sugar. Taste what you want but never make a meal of party appetizers."
And watch out for high calorie alcoholic beverages!
"Drink lots of water! Particularly if you're drinking cocktails, pace yourself and drink a glass of water between alcoholic beverages. If you're drinking cocktails, have a few sips of your favorite seasonal drink, like eggnog, or apple cider, then switch to something lower calorie like vodka soda with a lime wedge."
RELATED STORIES:
Kate Gosselin Swapped Families With Kendra Wilkinson; Traumatized Kids, Claims Author