Tragic Kate Middleton Nurse Jacintha Saldanha's Remains Returned To India For Funeral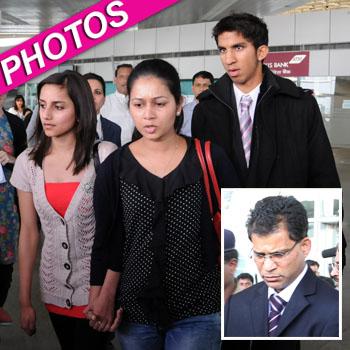 Accompanied by her husband and two children, the body of Jacintha Saldanha was returned to India on Sunday.
The funeral for the nurse, who took her own life after being inadvertently involved in a radio DJ bit seeking information about Kate Middleton, is scheduled for Monday.
Saldanha took the hoax call from two Australian DJs claiming to be Queen Elizabeth and seeking information about pregnant Kate when she was then hospitalized with hyperemesis gravidarum. She transferred the call to Kate's private nurse who gave the stunned radio personalities confidential information about her royal patient.
Article continues below advertisement
Saldanha was so devastated about her involvement, she took her own life, hanging herself in the nurses quarters at London's King Edward VII Hospital.
Following a funeral mass at Westminster Cathedral on Saturday, her husband Benedict said, "My wife, you were the light in my darkness, who always showed me the way forward. From the day we met, you always stood by me in times of hardship and happiness. I feel a part of me has been ripped out."
Her daughter Lisha, 14, added, "We will miss your laughter, the loving memories and the good times we had together. The house is an empty dwelling without your presence. We are shattered and there's an unfillable void in our lives," reports the MailOnline.
"Our mother, kind hearted, generous and a well-respected woman in both our lives," echoed her son Junal. "You were the core of the family who kept us together."
Article continues below advertisement