Hugh Jackman On Devastation Over Wife's Miscarriages, 'There's A Grieving You Have To Go Through'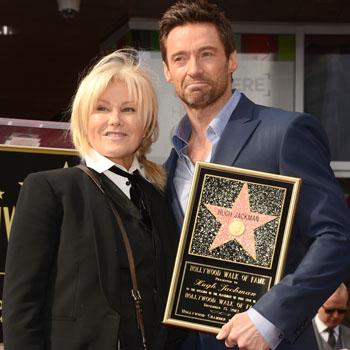 Article continues below advertisement
Jackman, 44, was quick to point out that he and Deborra had always planned to adopt children but would have also liked to have conceived on their own too.
"By the way, to be clear, Deb and I always wanted to adopt," Jackman says. "So that was always in our plan. We didn't know where in the process that would happen but biologically obviously we tried and it was not happening for us and it is a difficult time.
"We did IVF and Deb had a couple of miscarriages. I'll never forget it, the miscarriage thing… It happens to one in three pregnancies. But it's very, very rarely talked about. It's almost secretive, so I hope Deb doesn't mind me bringing it up now.
"It's a good thing to talk about it. It's more common and it is tough. There's a grieving that you have to go through. So the moment Oscar was born, all the heartache just melted away."
Article continues below advertisement
Jackman and Furness are now happy parents to adopted Oscar, 12, and Ava, 7, and the actor shares that fatherhood is everything - and so much more - than he ever hoped for.
"Parents know you can't prepare for becoming a father. Nothing can prepare you," he says. "You can't even explain how incredible it is and that avalanche of emotion that comes and how it opens up your heart, how it frustrates you, how it angers you, how everything is just all the sudden how alive you are as a parent."
As RadarOnline.com previously reported, Jackman has been spurred to ensure a happy family life for his children after having suffered the trauma of his mother leaving him when he was a young child.
The Tony award winner broke down in tears during an emotional interview with 60 Minutes recently, talking about how his mother Grace abandoned him when he was just 8 - openly weeping as he recounted how she left, relocating from Australia to England and leaving him, his father Chris, and four siblings to fend for themselves.
Article continues below advertisement
"I can remember the morning she left, it's weird the things you pick up," Jackman said, his eyes welling with tears. "I remember her being in a towel around her head and saying goodbye, must have been the way she said goodbye. As I went off to school, when I came back, there was no one there in the house.
"The next day there was a telegram from England, Mom was there. And then that was it. I don't think she thought for a second it would be forever. I think she thought it was, 'I just need to get away, and I'll come back.' Dad used to pray every night that Mom would come back."
Later in the interview, Jackman called his father "my rock" and credited him with instilling traits such as "loyalty and dependability" that have served him well as both an A-list actor, and father himself.
He said his father continues to give him advice, but only about family, saying one of his dad's biggest regrets was spending too much time at work.
"He doesn't want me to make me that mistake," the X-Men hunk said. "In his gentle way, he always reminds me family is the most important thing."
Article continues below advertisement
With that in mind, Jackman said he and his family are never separated for more than two weeks despite his busy career.
"We choose not to," Jackman said. "We don't like it."
You can watch Hugh Jackman's candid interview Tuesday on Katie, check local listings for time.
RELATED STORIES:
2013 Golden Globes: Lincoln, Argo & Les Miserables Among Multiple Nominees
Anne Hathaway Calls Flashing Paps 'Devastating'